Emmerdale fans aghast at the actions of village 'hypocrites' during affair showdown
The Emmerdale residents aren't as squeaky clean as they seem to think...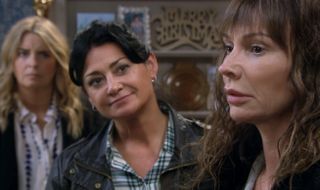 (Image credit: ITV)
Emmerdale's big episode on Thursday proved that a soap isn't the glass house you want to be living in if you are about to slam someone else for their morals!
The episode saw Chas' affair with Al finally exposed after Paddy took Chas for a few days away.

Chas was glad to escape the heat in the village, after Belle confronted her over the fact that Chas had still been sleeping with Al right up until his death.
But Chas was in for a shock when she and Paddy reached their destination – it was the house Al was buying Chas for them to start their new life.

Paddy knew everything!
After an emotional showdown, the pair headed back to Emmerdale where the rest of the village were quick to lay into Chas over her actions.

But while viewers loved the drama, they couldn't help but think that the assembled villagers slamming Chas was a little rich – the residents all seemed to have forgotten that they were no saints themselves!
Moira, after all, cheated on her first husband John with his brother, John – and even had his baby. When Cain later become Moira's hubby, she started romping with his son, Nate.
Belle, who exposed Chas,' affair with Al had her own fling with married Dr Bailey.

Chloe, who was berating Chas for on behalf on her mum – Al's fiancée Kerry – is currently carrying the child of engaged villager Mack.

Meanwhile, even Paddy himself cheated on both his previous wives. He had a memorable affair with older postmistress, Viv Windsor, when married to Emily. Then he cheated on second wife Rhona with schoolteacher, Tess.


But Viewers were quick to shatter the big glass houses these characters with very short memories seemed to live in.
"Hypocrite village!" summed up one.

While others were quick to remind the residents of their various indiscretions in a stream of tweets calling them out...
Hypocrites or not, the villagers are all set to give Chas the cold shoulder in the coming days, leaving her feeling more alone than ever this Christmas.

Is there really a future for her in the village now?
Emmerdale airs weeknights at 7:30pm on ITV

Catch-up on the latest episodes on the ITV Hub

Get the latest updates, reviews and unmissable series to watch and more!
Steven is a writer, editor, and commentator with a passion for popular TV and soap operas. He spent 20 years as the editor of Inside Soap magazine, documenting every punch-up and pucker-up in the Street, the Square and the village. As a feature writer, he's covered TV crime dramas, period dramas and even some real-life star dramas. He's been seen as a talking head on more TV clip shows than he cares to remember, has a life-long passion for TV sci-fi – the older and creakier the better – and is a slight obsessive about any reality show featuring hotels.
Thank you for signing up to Whattowatch. You will receive a verification email shortly.
There was a problem. Please refresh the page and try again.