Emmerdale fans slam 'sexual harrassment' storyline
Emmerdale viewers brand the latest village romance as 'wrong'!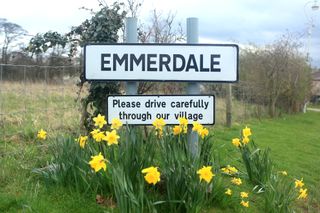 (Image credit: ITV)
Emmerdale viewers have slammed the show's latest steamy romance, which saw Gabby Thomas and Nicky the nanny give in to passion.
The pair - well, Gabby at least - have been flirting for weeks and they finally took things further as they made good use of Kim's fancy leather sofa.
But while Gabby and Nicky seemed to be extremely pleased with themselves about their new romance, the Emmerdale viewers weren't happy!
They took to social media to slam the latest couple in the village as inappropriate and just plain "wrong".
And it's not hard to see why.
Gabby, as the mother of Kim's grandson, is Nicky's employer. She's in a position of authority over the newcomer and she's made it quite clear that she admires him for more than just his childcare skills.
In fact, Gabby's been drooling over Nicky for weeks, flirting and opening bottles of wine, and taking every chance she's had to be close to him.
But, until last night's episode Nicky had been sticking to his opinion that nothing could ever happen between them.
He said it would be wrong because Gabby is his boss.
Yesterday, though, Gabby came up with a 'brilliant' plan to sack Nicky so they could be together, then take him back on again.
Hmm, not sure it was the best idea.
And Nicky was not impressed. In fact, he walked out, leaving Gabby holding the baby - literally.
But just a short while later, he was back and soon the pair were in a clinch.
While the new lovers were happy, the fans, however, were not!
They pointed out that had Gabby been a dad, relentlessly pursuing a female nanny, things would have looked very different.
Some fans claimed it was "bordering on harassment" and said it was no surprise Nicky had quit (for a little while!).
Other viewers said it was giving out a dangerous message to "lecherous bosses".
"So what they're saying is if you harass someone enough they will sleep with you," said one uncomfortable fan.
And one viewer even said it was a "great advert for sexual harassment in the workplace".
Some fans, though, are still convinced there's more to no-surname Nicky than meets the eye.
Is he a secret Tate? An undercover Dingle? Working for Caleb? Working for Jamie Tate? Or Joe Tate? Or Jean Tate?!
Whatever he's up to, some viewers think him letting Gabby seduce him is part of the plan!
"Nicky's playing Gabby," one fan predicted.
Hopefully we won't have to wait too long to find out the truth!
Emmerdale usually airs on Monday to Friday at 7.30pm with an hour-long episode on Thursday. Check our TV Guide for more information.
Get the What to Watch Newsletter
The latest updates, reviews and unmissable series to watch and more!
Kerry is a writer, author and editor with a lifelong love of the soaps, a passion for TV drama of all kinds, and an obsessive devotion to Strictly Come Dancing.
She was features editor of All About Soap magazine for more than a decade, covering every bit of excitement from all the UK soaps and the Aussies and still writes about all the juiciest gossip from the Street, the Square and the Dales whenever she can.
Kerry's also an author of historical fiction, and her two jobs collided when she got the chance to write two novels based on Emmerdale, and the Sugden, Tate and Dingle families, during WW2.