Maya risks everything in Emmerdale tonight to stop shirtless Jacob snaps coming out!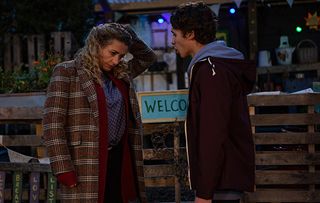 Maya is desperate to keep her secret safe
In the latest twist in the Emmerdale sexual abuse storyline, Maya Stepney is forced to take drastic action tonight to prevent everyone knowing about her twisted relationship with teen Jacob Gallagher.
Maya has been pleased that lovestruck Jacob has been sending her shirtless selfies – that is until her mobile phone falls into the wrong hands!
The teacher panics when she realises that she's left her phone in boyfriend David Metcalfe's villages store and is stunned to discover David's young daughter Amba playing with it!
Maya, who's already been warned by headteacher Jessie Grant over her inappropriate behaviour around male students, then takes the shocking step of ripping the phone out of the little girl's hands.
Not surprisingly, Priya is amazed by what she's witnessed. What on earth could cause a grown woman to behave like that to a little girl?
Priya decides she has to tell David about what she's seen. It looks like the net is closing in on Maya and surely it can't be long before David works out what's been going on between her and Jacob?
Later in the week, the plot will take another turn when Jacob, who's struggling to control his feelings, gives Maya a shock ultimatum. How will Maya respond?
Meanwhile, in this evening's Emmerdale, Debbie hot foots it off to confront Graham Foster over what happened to her poor fiancé Joe Tate.
Debbie, furious after Cain's confession yesterday, discovers tonight that Graham was involved in the cover up and that Moira also knew.
However, only Graham of course knows what really happened that fateful day…
Emmerdale continues on ITV at 7pm.
Get the latest updates, reviews and unmissable series to watch and more!
Thank you for signing up to Whattowatch. You will receive a verification email shortly.
There was a problem. Please refresh the page and try again.