Episodes star Tamsin Greig: 'Why I love jokes that are close to the bone'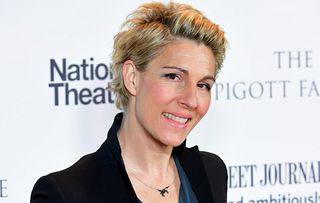 (Image credit: PA Wire/PA Images)
As hit BBC2 comedy Episodes returns for its final series, Tamsin Greig talks risky jokes, shooting with Matt LeBlanc and why it's time to leave the party!
Actress Tamsin Greig is back as screen-writer Beverly Lincoln in the fifth and final series of  BBC2's hit comedy Episodes, which is set behind the scenes of Hollywood and also stars Matt LeBlanc and Stephen Mangan.
Here Tamsin Greig tells What's On TV  about going shooting with Matt LeBlanc, why she loves jokes that are close to the bone, and how she's prepared herself to say a final goodbye to Episodes…
What's On TV: How is Beverly finding working with Matt (Matt LeBlanc, who's also spoken us) this series?
Tamsin Greig: "So Beverly and Sean (Stephen Mangan) can't get rid of this monkey on their backs! They're trying to write stuff with him and his ideas are really terrible. He comes up with an idea for a show that's called Whores!! but the best thing about it is that it's got two exclamation marks after it! So it's an ongoing terrible triangle of us trying to contain him – but his wonderful imagination just can't be stopped!"
WOTV: There's an episode where they go to Matt's ranch, too…
TG: "Yes, we go to Matt's ranch to do some writing and Matt says it would be a good idea to do some shooting – not television, actually shooting things!"
WOTV: What do you enjoy most about being on the show?
TG: "The quality of the writing is sublime and that doesn't happen a lot on other shows... You know, Matt's playing a brilliant version of himself, a dark, manipulated CGI'd version of himself and that's what a great actor does."
WOTV: Both Matt and the writers are American. Have there been moments when you've not understood each other?
TG: "Yes, it's a different language! So I say I don't know what a nightstand is and they laugh at me and say it's a bedside table! But you have to put your head above the parapet and say,'I'm sorry I don't know what you're talking about.'"
WOTV: Some of the jokes are a bit close to the bone, were you worried about that?TG: "I think the closer to the knuckle the better! When you handle them delicately then it makes them beautiful and shows the humanness of people and how flawed and thoughtless people are."
WOTV: How do you feel about the show coming to an end?
TG: "I'm fine! I'm a real fan of the bravery of knowing when to leave a party. When it's time to go home it's time to go home. It's a really well told tale, it's very well balanced and beautifully structured and the place that it gets to is so effective and nourishing, you just go, 'Oh yeah of course'. I'm happier than anyone that this job came my way!"
Episodes Season 5 begins Friday March 30th, BBC2
Main pic: PA Wire/PA Images
Get the latest updates, reviews and unmissable series to watch and more!
Thank you for signing up to Whattowatch. You will receive a verification email shortly.
There was a problem. Please refresh the page and try again.