Eve Myles: 'My husband filmed my Broadchurch audition on his iPhone. I looked horrendous'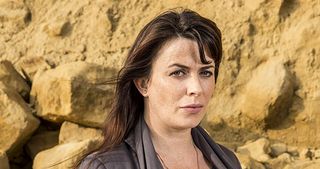 (Image credit: Patrick Redmond +353872600976)
Eve Myles, who plays the mysterious Claire Ripley in the second series of Broadchurch (ITV, Monday), tells TV Times why she found her a difficult character to play and how the role could have gone to someone else...
Your daughter Siena was only four days' old when your agent called about the role. What did she say?
"After asking how I was, she said, 'You're not up to coming to London, are you?' I replied, 'No, not for a while, I'm going to have a little break.' Then she told me it was for Broadchurch. The team were very accommodating and let me tape the scenes instead, which my husband did on his iPhone. I must have looked horrendous!"
What did you think of the first series of Broadchurch?
"I was slightly obsessed with it. We watched it twice because we loved it so much. But when I got the part, I didn't re-watch it, that would have put the fear of God into me and I wouldn't have turned up to the read-through!"
Have you found it difficult to play Claire?
"Very difficult. On Broadchurch, you don't get all the scripts straightaway so the character unfolds through the filming process.
"There were a couple of scenes I found difficult to shake off and I'm not that type of actor usually. I love my job, but I know when I get in the car, I'm going home. But then again, I've never played somebody like Claire before, she's a giant of a character."
Was it quite frightening filming some of the scenes?
"The scene where Claire trashes the kitchen in the cottage in episode six was pretty scary, but the entire thing was choreographed within an inch of its life because it's somebody's beautiful house, and the last thing you want is to smash it up. We did the scene twice."
What do you think of Lee and Claire's relationship?
"They bring the worst out in each other. Claire knows their relationship is poison, but they have this strong sinister connection. Apart from James D'Arcy [who plays Lee Ashworth] being really quite beautiful and an incredibly generous person, it's been really hard working with him! No, he's lovely!"
Do you think the second series is as good as the first
"When you come from a successful series, the second one is always going to be compared. It's water off a duck's back really because you expect it. What I do think is that this series stands on its own, which it should do. We've not tried to recreate anything from the first, we've tried to do something new for viewers."
Is there anything you can tell us about the final episode?
"I was dying to get the script for it, but when I did, the worst thing possible happened. I started reading it on the train home after filming in West Bay [in Dorset] and after about five scenes my phone died. I didn't have a charger so that was that for the next two-and-a-half hours. When I got home, I completely ignored my husband, put my phone on charge, and said we can't speak for a couple of hours. It was worth the wait!"
Get the What to Watch Newsletter
The latest updates, reviews and unmissable series to watch and more!