Ex Emmerdale star Sheree Murphy: I still get recognised as Tricia, which is crazy!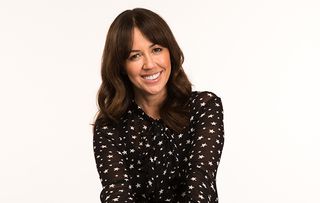 (Image credit: Victor Frankowski)
Former Emmerdale, Hollyoaks and Neighbours star Sheree Murphy tells Soaplife about enjoying her new role as a radio show host and how she'd love to be in another soap
Remember Sheree Murphy as ill-fated Tricia Dingle in Emmerdale, scheming Dakota Davies in Neighbours and Eva Strong, long-lost mother of Anita Roy, in Hollyoaks? Well now she's turning her hand to radio…
What's the story?
Actress Sheree Murphy is playing music and having a laugh on Sunday morning radio. But she's not ruling out returning to soap. "I'd love to do another one," Sheree tells Soaplife.
What's happening in Emmerdale? See the latest soap storylines
Sheree Murphy talks with Soaplife about her new role as a radio show host and her Emmerdale past…
S: Do you still get recognised for playing Tricia Dingle in Emmerdale, even though it was a long time ago?
SM: "Yes, I still get recognised as Tricia, which is crazy. I left Emmerdale 15 years ago this year. It's lovely, though, that people still remember her."
S: Would you consider joining another soap?
SM: "I'd love to do another soap although the only ones left for me to be in are Corrie and EastEnders. I've done Hollyoaks, Neighbours and, of course, Emmerdale!"
Soaplife: How's life, Sheree?
Sheree Murphy: "It's great! I'm co-hosting a Sunday radio show with a lovely DJ called Wes Butters on Hits Radio (https://planetradio.co.uk/hits-radio/). It's a fun show with lots of great music and laughs. Our listeners are our guests. Every week they call up and get involved in our chats."
S: What kind of music do you play?
SM: "We play all the latest hits, plus hits from over the last few years, so there's a really nice mix of music. I love all the latest stuff, so I'm happy to play and hear them. Obviously, there are some songs I'm not keen on, so I just pop out and make a cup of tea when they are on!"
S: Is this your first radio show?
SM: "Yes, this is the first time I've ever presented on radio. I've been interviewed on radio before, but it's very different being on the other side. There are so many buttons and switches in front of us, but luckily Wes does most of the button pushing!"
S: How do you two get on?
SM: "Wes and I get on great, so it just feels like two mates chatting. You forget people are listening at home or in their cars. I try not to think about it too much, though, otherwise the nerves will kick in!"
S: Hits Radio is based in Manchester, isn't it?
SM: "Yes, but we broadcast nationwide. It's the first time a commercial radio station has ever broadcast out of Manchester, so that's very exciting. The added bonus is I only live 20 minutes away from the studio!"
Thank you for signing up to Whattowatch. You will receive a verification email shortly.
There was a problem. Please refresh the page and try again.