Fantastic Films of the Decades – Volume 1: The Silents | Book review – A film fans must-have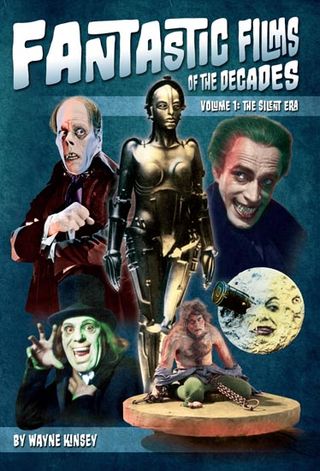 From film historian, Wayne Kinsey, comes the first in an ambitious nine volume series, which sets out to present an informative, pictorial history of cobweb cinema (including horror, fantasy, sci-fi and spine-tingling thrillers), from the silent era to 1970s blockbusters.
Kinsey begins his epic journey with the seminal silent era, where many a mad doctor, monster and screaming heroine were first given life by early film pioneers like George Méliès and Fritz Lang.
Providing the same kind of detailed background information (production history, credit lists, and fascinating facts on the cast, crews and film-makers) that he employs in his many Hammer history tomes, Kinsey unearths and revisits 65 genre films, a mixture of classics and obscurities, and seven famously lost gems. Designed with 'Fantastic' film fans in mind, Kinsey packs his labour of love with tons of wonderful images, as well as some vintage poster repros.
He also intersperses the filmography with sections honouring the era's Legends: including actors Lon Chaney Sr, Conrad Veidt and the Barrymores; directors Karl Freund, Alfred Hitchcock and Tod Browning; and iconic studios like Universal. There are also Series Link pages devoted to a range of themes (including supernatural, vampire and dinosaur films) and iconic characters (Frankenstein, Dracula, The Mummy, and the Opera Ghost).
This is an impressive, informative and – above all – invaluable film reference book, one that belongs on every film fans bookshelf.
Fantastic Films of the Decades Volume 1: The Silent Era is limited to 500 copies and is available only from Peveril Publishing
Click HERE to place an order.
Get the latest updates, reviews and unmissable series to watch and more!
Thank you for signing up to Whattowatch. You will receive a verification email shortly.
There was a problem. Please refresh the page and try again.