ITV confirms filming is about to start on The Durrells series two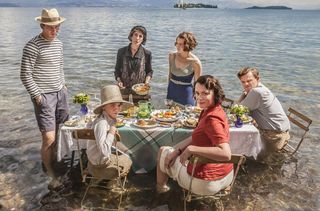 ITV says filming on the second series of their biggest drama of 2016, The Durrells, is about to commence in Corfu and London
Keeley Hawes and her chaotic family are about to return to Corfu to being filming series two of period adventure drama The Durrells, ITV has confirmed.
Keeley will reprise her role as Louisa Durrell in the new 6 x 60-minute series, which will also be partially filmed in London.
ITV's controller of drama Victoria Fea said: "We loved The Durrells from the moment the idea was pitched to us and it become even more magical when it was brought to screen.
"It was a very easy decision to commission a second series of this warm and enchanting drama."
In series two, Larry (Josh O'Connor) continues writing despite a new romance getting in the way; Leslie (Callum Woodhouse) decides to explore his entrepreneurial spirit; Margo (Daisy Waterstone) makes a play for someone thoroughly unsuitable; and Gerry (Milo Parker), who prefers animals to people, is delighted when he discovers an otter is living close to home.
Australian actor Daniel Lapaine will join the cast as Hugh Jarvis, an English gent who sets his sight on Louisa. But after her failed attempt at marrying Sven, will Louisa be ready for a new man in her life?
As we pick up the family's travails, money is still tight and Louisa finds herself on the wrong side of their new landlady Vasilia (Errika Bigio). Why does Vasilia seem to have a personal grudge towards Louisa?
The family decide to grow food at home to sell at market. Theo (Yorgos Karamihos) tries to teach Leslie bee-keeping so he can make honey, Margo plants seeds and Gerry milks goats. Will they make a success of their new business venture?
Leslie Caron will return to The Durrells to play Countess Mavrodaki, Ulric Von Der Esch returns as Sven, Anna Savva reprises her role as housekeeper Lugaretzia, Lucy Black is back as Florence Petrides and Alexis Conran returns as Dr Petrides.
The first series of The Durrells was a hit for ITV, its highest rating new drama of 2016 so far, and gained a peak audience of 8.2 million viewers and averaged 6.9 million viewers across the series.
Get the latest updates, reviews and unmissable series to watch and more!
Thank you for signing up to Whattowatch. You will receive a verification email shortly.
There was a problem. Please refresh the page and try again.