Find out why ex Emmerdale star Chelsea Halfpenny sees herself with a cowboy way out west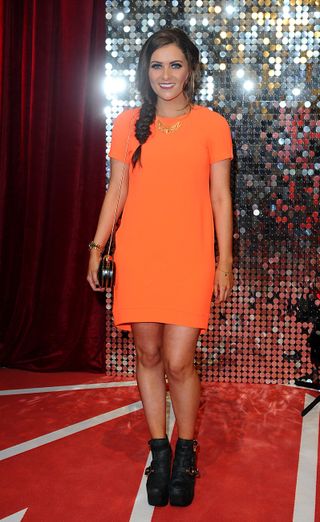 (Image credit: Matt Crossick)
Emmerdale ex Chelsea Halfpenny talks to Soaplife about panto, a return to Casualty and missing life in the Dales…
When Chelsea Halfpenny left Emmerdale and her character, Amy Wyatt, behind two years ago, it was reported she wept buckets on her last day – even though it had been her choice to go.
"If it was entirely up to my heart, I'd probably still be there now because I loved the show and the people so much. It completely changed my life, gave me confidence and I came out of it having learnt so much. However my head told me I needed to go and try other things – theatre and different TV. I don't regret leaving Emmerdale, but I still miss it…"
You're not going back to Emmerdale, are you?
"No, but never say never! I feel very lucky not to have been killed off. The writers always liked writing for Amy and she was a great character to play."
What are you working on right now?
"I'm playing the Cabbage Patch Fairy in the Jack and the Beanstalk panto at the Macron Stadium in Bolton. It's my first panto and I'm loving it. Graeme Hawley, who played John Stape in Corrie, is in it, too."
And then what?
"I'm going to the USA for five weeks in February. A friend and I are flying to New York and spending a few days there, before flying down to the south and spending a few weeks driving around. Then we fly to California and spend a few more weeks driving around Los Angeles. Last stop is Las Vegas!"
You sound very excited about it?
"I am SO excited! It'll be a kind of road trip. I see myself sitting in some bar way out west and drinking steiners with a cowboy! Before I go, I think I'll watch the film Thelma and Louise. That's a classic girly American road trip movie."
And when you get back, will you return to Casualty?
"It's a possibility. I enjoyed my time in Casualty and I wished it were longer. The people were really lovely. If I did go back on a more permanent basis, I'd have to move to Wales where it's filmed, but that's fine by me. I'd never been to Wales, before I did Casualty, but I loved it, especially the beautiful Gower Peninsula."
Playing a junior doctor wasn't the first time you'd been in Casualty, though, was it?

"No. I played a patient with a broken leg back in 2004."
Was working on Casualty as intense as working on Emmerdale?
"I'd definitely say so. The scenes in Casualty take slightly longer because of the medical aspect, which was really fun to do. I had to learn to stitch, too, because they get you to do it yourself as much as possible!"
Have you seen much of your auntie, Humans star Jill Halfpenny, recently?
"Funny you should say that! Until very recently I was living in the flat above her's in London. It was great being able to hang out with her and take her son and my cousin, Harvey, who's seven, on cinema dates and stuff."
Would you like to work with Jill?
"We haven't worked together yet. But, yes, I'd love to at some point, only because we know each other so well and you can't beat chemistry like that."
What kind of role would you love more than anything?
"A drama based on a real story and real characters. I'd really enjoy doing the research and trying to take on a real person's characteristics and mannerisms, getting under their skin. That would be such a challenge."
Get the latest updates, reviews and unmissable series to watch and more!
Thank you for signing up to Whattowatch. You will receive a verification email shortly.
There was a problem. Please refresh the page and try again.