FIRST LOOK: Coach Trip's chatty new arrivals!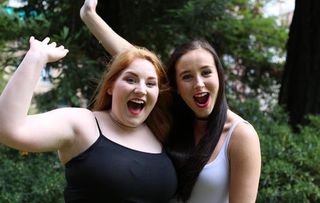 (Image credit: Channel 4 Television)
Two newcomers board the Coach Trip bus tonight. Here's what we know so far…
Tonight sees the arrival of two new contestants, best pals Sarah and Shelley. The newcomers get two days of immunity, which means they can vote for their fellow travelers but can't be voted for. Will this cause problems on board the bus?
Here's everything we know about the new tourists so far…
Kindergaten kids! Sarah and Shelley are both from Warrington and have been best friends since they were knee-high. As a result they've turned finishing each other's sentences into an art form!
"We've known each other since 1994," says Sarah. "Been friends for 22 years," adds Shelley. "Been to nursery together," chimes in Sarah. "School together," says Shelley. "We've been mugged together!" reveals Sarah
Children at heart! Both Sarah and Shelley work in entertainment. Sarah is a character at a theme park while Shelley is a children's entertainer. They both love to talk about the parties they've worked at. Will the other tourists enjoy their tales?
Love lives Sarah and Shelley are in relationships. Sarah has a boyfriend and Shelley is engaged. So love is off the table on Coach Trip. Or is it?
Sing it, sister! They're both massive musical fans and often break into song. Which won't in any way be annoying to anyone…
Two are amused Knowing each other as well as they do, Sarah and Shelley have a wealth of private jokes and both love to make each other laugh – regardless if anyone else is amused!
Sarah and Shelley join Coach Trip tonight, replacing former contestants Joely and Liam and Mark and Charlotte.
Only time will tell if they'll be success with the remaining original contestants. But Brendan is hopefully they'll shake things up...
"I wanted to give this coach a breath of fresh air. And I thought, what better than two children's entertainers," reveals Coach Trip presenter, Brendan Sheerin. "After all I've got a group of children I'm taking around Europe anyway!"
Coach Trip: The Road to Zante continues tonight on E4 at 7.30pm
Get the latest updates, reviews and unmissable series to watch and more!
Thank you for signing up to Whattowatch. You will receive a verification email shortly.
There was a problem. Please refresh the page and try again.