FIRST LOOK: Casualty's new doctor, Bea Kinsella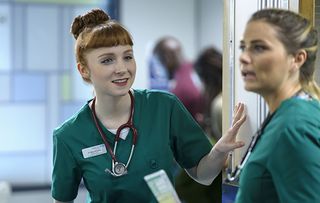 (Image credit: BBC / Alistair Heap)
Michelle Fox joins Casualty as new F1 doctor, Bea Kinsella. Here's everything we know so far about Bea…
New junior doctor, Bea Kinsella, bursts through Holby ED's door this Saturday, and she's an interesting addition to the Casualty family.
Here we reveal seven must-know facts about the new F1…
Irish actor, Michelle Fox, plays new junior doctor, Bea Kinsella. Michelle, has appeared in Doctors, and stars as Imogen in Overshadowed. Here Michelle reveals more:
Bea and Rash = #Brash?
Bea knows Rash! When Bea bounces into the ED she makes a beeline for Rash. It soon becomes clear that Bea is the dominant character between the two, but she could learn a lot from Rash's (Neet Mohan) more gentle approach. Anyone hoping for a romance between the pair may be disappointed. It's more of a brash-brave big sister Vs thoughtful-timid little brother relationship.
Gutsy - literally
Eager, confident and hungry for complicated cases, Bea is delighted when she walks into the chaos of the ED. Soon she's swapping patients with Rash, as Bea wants to be exposed to danger, blood and guts, which Rash actively tries to avoid…
The Ethan impression
With the acting clinical lead up to his elbows in admin and patients, he completely forgets this is Bea's first day. Ethan hands Bea over to Alicia, but in the chaos of the ED, an unsupervised Bea's thoughtless actions mean she's called to his office at the end of her shift…
Is Alicia an ally?
Ethan begs Alicia to look after Bea when she turns up. If you've seen Casualty's Winter 2017 trailer, you'll already know Bea's first day is such a steep learning curve it's nearly vertical. Bea's behaviour earns her both praise and condemnation from several senior staff… as far as impressions go, it's fair to say Bea makes a strong one!
The sting
Bea's behaviour crosses lines; with long-term consequences for Ethan, Alicia and the ED. Keep an eye out for Gavin & Stacey star Melanie Walters' moving guest appearance…
The secret life of Bea
Like all new Casualty characters, what you see isn't simply what you get. Our BBC source has revealed that Bea's upbeat can-do attitude masks deep-rooted family trauma. Her mother died when she was younger and she's secretly supporting her alcoholic father!
Catch Bea's Casualty baptism on BBC, Saturday 03 February at 8.20pm
Get the latest updates, reviews and unmissable series to watch and more!
Thank you for signing up to Whattowatch. You will receive a verification email shortly.
There was a problem. Please refresh the page and try again.