"Flavia was so excited about me doing Let's Sing and Dance for Comic Relief!" says Russell Grant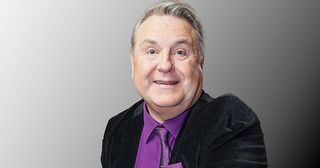 The TV astrologer has been hitting up his former Strictly Come Dancing partner for tips...
Russell Grant, you'll be performing Diana Ross's disco hit Chain Reaction in the first heat of Let's Sing and Dance for Comic Relief, are you a big fan of the song? "Oh my god I love the song! When I first met up with the BBC they wanted me to do Lady Gaga, but we were chatting and they asked who my favourite artist was. I mentioned that I loved Diana Ross and that I loved Chain Reaction and they all said 'yes!'"
Are you nervous about singing and dancing on live TV? "I'm used to musical theatre, but this is very different! You have to take on board, this is Comic Relief, so it's not as if I'm going out there to try and be a Diana Ross tribute act because that ain't ever going to happen. It's more like me playing Divine – I have the figure after all – it's me playing Divine, playing Diana Ross, if you think of it in that way then you'll get an idea."
Do you think you could make it to Let's Sing and Dance For Comic Relief grand final? "I'm one of those people who's always the bridesmaid, never the bride! I always end up a 'might have been' or 'almost could be' so I'm not expecting to get past the first show. When I did Strictly Come Dancing in 2011 I thought I would be gone by week 3, but nine weeks later I was dancing at Wembley! I never expect to win anything. I'm 66 now - six years older than I was in Strictly - but there's life in the old dog yet!
Are you still in touch with your partner from Strictly, Flavia Cacace? "Yes we're in touch all the time. When I told her I was doing the show she said 'Oh Mama Rose how wonderful!' we have nicknames for each other… she's Gypsy and I'm Mama Rose. Zoe Ball gave them to us on 'It Takes Two'!
Will Flavia be watching the show? "I'm sure she will. Flavia has more faith in me than I do. When I left Strictly at Wembley I was already due to go into hospital for an operation on my knee as I had danced for five weeks with me wearing a knee brace. I told I would never have been able to do the jive the week afterwards and she said 'Yes you would have!'"
You've always spoken of how Strictly helped you turned your life around, did you fear you would never dance again after the knee injury? "I had the most wonderful surgeon. He works in North Wales and has operated on some very well known footballers! When I first went to see him while I was still on the show he was enthralled by Flavia and really looked after me. He gave me a knee brace which went from my hip to my ankle and gave me so much more confidence and self-belief that I could carry on the run."
It went well with the knee brace! "I wore it first when we did Better the Devil You Know by Kylie, she tweeted me saying 'shimmy Russ, shimmy!' That really helped my confidence and self esteem. In the end I had the knee operation in March and it's all been fine. The last few years have been amazing, Strictly saved my life, opened up my life. To be doing Comic Relief is an extension of Strictly – except I'm on my own. There's no Flavia!"
You'll be up against some good dancers in Let's Sing and Dance For Comic Relief.. "I never worry about things like that because I've never been competitive. My brother played rugby and football and I kept the scores. I'm an anorak! I have no worries, I'll just do the first show and see how it goes. There are a lot of young people in those heats – I'm an old geezer now ain't I?"
Have you ever considered doing any other reality shows? "I'd love to have a go at Real Marigold Hotel, but I think it would be too hot in India! I always say I'll have a go at anything – but not The Jump, that looks too dangerous. I saw Ola Jordan recently and she said 'You mustn't go on there Russell – look at what happened to me!'"
Russell Grant will be appearing in the first heat of Let's Sing and Dance for Comic Relief on BBC1 on Saturday 4 March at 6.45pm
Feature writer for TV Times, What's On TV, TV & Satellite Week and whattowatch.com
Sean has been writing about all things telly for over 10 years and in that time he's been lucky enough to interview stars like Ian McKellen, Tom Hardy and Kate Winslet. His favourite shows are The Great British Bake-Off, People Just Do Nothing and Succession and in his spare time he enjoys drinking tea, doing crosswords and watching football.
Thank you for signing up to Whattowatch. You will receive a verification email shortly.
There was a problem. Please refresh the page and try again.