Fred relocates to the south of France for the First Dates Hotel!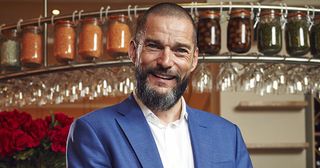 (Image credit: Stephen Wells)
First Dates is taking a break from its usual location in a London restaurant to set up shop at a beautiful hotel in the south of France, where the lonelyhearts will have 48 hours to find love...
So will this romantic setting help love to blossom? We caught up with philosophical maitre d' Fred Seriex, who will be relocating to his native France for the new series, to find out more...
Why is First Dates moving to a French hotel? "We wanted to do something a bit different. In the First Dates restaurant the couples don't have the time to get to know each other, so we thought we'd take people away so they could get to know each other a bit deeper and also to give them another opportunity to see each other. It's also that sense of when you're on holiday, everything is so much more exciting!"
And why France? "Well I'm biased, but France is the most romantic country in the world! So we pick up the couples at the airport and drive them through the beautiful countryside to a luxury five-star hotel. They have no emails or phone calls, it's just them and their date. They're in this special environment in this beautiful village with stone walls and cobbled streets. There's a bar, restaurant, swimming pool, Jacuzzi and this beautiful view of the valley."
What happens next? "Well, then the couples meet and if they like each other they have another opportunity to meet the next day. But even with all that it doesn't always work out!"
When you greet people as they arrive, can you tell immediately if they're going to hit it off? "Yes, you get this energy from people. You can tell if it's going to work or not because sometimes there just isn't that chemistry. Sometimes the date is also like a mini relationship, and one little thing can mean they don't want to take the plunge and the whole thing is broken. But it's a bit like watching a natural history programme – you can't get involved, you're just an observer!
Why do you think First Dates is so popular? "I think it brings us back to good old-fashioned values of how we'd like the world to be. It's warm-hearted and, at the end of the day, we want people to fall in love with each other. It's also about having that blind faith that everybody can find somebody."
Do people recognise you now? "They come into the restaurant and ask advice or they want a picture. But I don't consider myself a celebrity at all. Brad Pitt and George Clooney – they're celebrities!"
Have you ever set anyone up on a blind date? "Yes, with a colleague. I remember sending a note to him pretending I was her, then I did the same to her. That was quite funny, but it worked!"
First Dates Hotel starts on Monday, January 2 at 10pm on Channel 4
Get the latest updates, reviews and unmissable series to watch and more!
Thank you for signing up to Whattowatch. You will receive a verification email shortly.
There was a problem. Please refresh the page and try again.