Gabriel Byrne says he doesn't want new drama to make him a great TV detective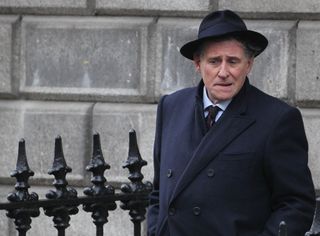 Irish actor Gabriel Byrne, 64, stars in the new BBC drama Quirke (opens in new tab), adapted from the books by John Banville, about a pathologist in fifties Dublin who turns sleuth when a colleague arouses his suspicions. But Gabriel doesn't want the story to run and run like some detective series.
"I don't want to turn into one of those 'detective guys'. That would kill me altogether," he said. "I enjoy the level of anonymity I have now.
When I was doing In Treatment [for HBO in America], it became a bit of a nightmare.
"You have to be very careful with television. I love working but I don't want that kind of attention again."
The actor spoke to working pathologists as part of his research for the role.
Gabriel (opens in new tab) revealed: "I asked this guy how he felt about working with dead people for 30 years and he said, 'We have to take care of the dead'. I thought that was an amazing thing to say, that the morgue was like a sacred place."
The three-part drama follows Quirke, who stumbles back to his lab after a night of drinking to find his colleague and adopted brother, Malachy Griffin, completing some paperwork for a recently deceased woman named Christine Falls.
Mal isn't thrilled to see Quirke, a fact that troubles the pathologist when he returns the next morning to find Christine's body gone. Consumed by curiosity, he's determined to call Mal to account and begins asking questions that lead him on an increasingly complex trail; one that takes him across the Atlantic, where he unearths a family secret.
"Quirke's an outsider and a loner," said Gabriel. "He's not a detective who kicks in doors and says, 'Freeze a**hole'. He's just a curious man who cares about the bodies that are brought in."
Quirke, BBC1, Sunday, May 25.
– Press Association (opens in new tab)
Get the latest updates, reviews and unmissable series to watch and more!
Thank you for signing up to Whattowatch. You will receive a verification email shortly.
There was a problem. Please refresh the page and try again.