Is Gavin and Stacey set for a comeback? Ruth Jones just dropped a major hint...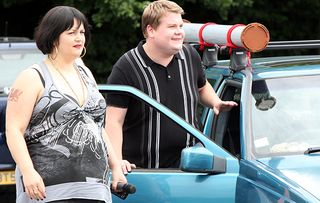 (Image credit: REX/Shutterstock)
Well, this is very exciting!
Gavin and Stacey fans, we think you need to take a seat, because this news is very exciting! Ruth Jones has admitted that her and James Corden are in talks to bring back their hugely successful characters Smithy and Nessa.
Ruth, 51, has revealed she talked with her former co-star James, 31, about possible plot lines in a Gavin and Stacey comeback.
The Stella star said earlier this week that her and James had been discussing what could be happening with their characters, despite previously confirming there would absolutely be no return of the show.
So, could she have changed her mind?
"James and I were talking about this [the characters] the other day," she said.
She also hinted what plot line a comeback show could take...
"I think Baby Neil, who is now probably about 11... Nessa is training him down the slots.
"She's training him in the art of the dodgy grabber machine and how to weigh the two pences."
Ha - we'd love that!
And they aren't the only two who are missing Smithy and Nessa's bizarre romance in their life, co-star Rob Brydon, who played Uncle Bryn in the show which aired from 2007-2010, told The Sun that he would come back if James and Ruth were to put something together, perhaps for an anniversary special.
"I think it's a real balance between, 'let's leave it on a high, people love it,' but there's also a big feeling of, 'oh it would be so lovely to get back together an do a special.'"
Ruth has previously said there would never be a reunion.
Speaking to Lorraine last year she said: "That is absolutely it. There is definitely, definitely, definitely, definitely, definitely not going to be any more."
So could have this impromptu catch up have changed Ruth's mind?
We'll have to wait and see.
Main pic: REX/Shutterstock
Thank you for signing up to Whattowatch. You will receive a verification email shortly.
There was a problem. Please refresh the page and try again.