Casualty star George Rainsford reveals SHOCKING new storyline details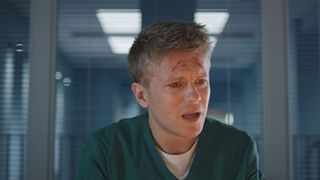 (Image credit: BBC)
Casualty star George Rainsford reveals the details of a massive plotline involving Ethan, Dylan, Rash and Mason…
Casualty's new series opener saw doctor Ethan Hardy have a brush with death last week, after he was called to help victims of a terrorist attack. This Saturday in Casualty Ethan's trauma continues as he struggles to cope with being involved in the devastating incident, which saw Big Al, his partner on the rescue, killed.
Will Ethan seek help and talk to someone about his recurring nightmares? Of course not, he's a Holby medic after all! Instead Ethan (George Rainsford (opens in new tab)) throws himself into his work, making new patient Effie Laurence the focus of his attention.
Casualty star George Rainsford reveals what's on the cards for Ethan...
How did Ethan come to be involved in the terrorist attack?
George Rainsford: "Ethan was on a driver-training refresher course with HEMS (Helicopter Emergency Medical Services) and partnered with gruff Big Al (played by London's Burning's Sam Callis (opens in new tab)). Ethan and Al got a call about a nearby attack on a busy market and were first on the scene. When they arrived they faced complete carnage – a lorry had been purposely driven into the market and there were bodies everywhere. There were a lot of casualties."
Sadly Al died during the rescue operation. How has this affected Ethan?
GR: "Al was an Alpha male and the polar opposite of Ethan. Yet, despite being so different, there was a mutual respect between them. I think Al reminded Ethan of his late brother, Cal, in a way – someone more confident and a leader."
Tell us about filming the terrorist attack…there are some pretty amazing stunts and explosions…
GR: "It's always good to get out the studio and, being a series opener, this was on a different scale, with more exciting equipment and stunts involved. We had about eight days filming in the market and it was an experience I'd pay for as an actor!"
MORE: Read more on last week's explosive opener (opens in new tab)
Why do you say that?
GR: "I got to see stunts being shot from start to finish, making sure everything was prefect for the final big explosion because they only have one shot at it – there isn't the time nor money to reshoot it. So they had five cameras, including drones and slow-motion cameras – and, of course, the stuntmen had to be carefully prepped and practice their moves, so I got to watch them throwing themselves on crash mats during the day. For the big explosion we were all sat around the monitor, completely quiet, as we were all so nervous about anything going wrong!"
Did you get to perform any stunts?
GR: "Not in the big explosion, but there were aspects of it where we were used - such as Sam and I leaping onto crash-mats and doing slow-motion stuff where they fired what was like a huge hairdryer in our faces, so our features are all bent to the side. I haven't done things like that before so it was really fun. The scenes where we trapped under rubble were actually shot back in the studio so that just meant being trapped on set for a day – which wasn't that glamorous!"
Ethan's usually the one saving lives – how is it playing the victim for a change?
GR: "It's happened a few times before, but yes, it's a different experience. You're less in control, which is quite nice, and more emotional. And it was fun being in a different costume and getting caked in all that blood and dirt. Our make-up department is truly amazing!"
How does Ethan feel knowing Big Al took the full force of the blast and protecting him?
GR: "He's in complete shock. He can't compute it. It's a reminder of losing his brother and he just can't process it. How would anyone react in that situation?"
Ethan's been through so much already – his brother, Cal's murder and the fallout from that. Is this attack going to have an adverse affect on him?
GR: "I talked with the director about possible PTSD and he certainly struggles after the event but, because it's Ethan, he thinks the way to solve everything is to throw himself back into work and help people. In this week's Casualty we pick up a story where he meets Effie (Abigail Hardingham (opens in new tab)) and she, in his head, is a problem to be solved. She's the daughter of his friend Theo (Jim Sturgeon). Effie has a particular medical condition and Ethan goes out of his way to help – which, I think, is Ethan's way of trying to forget what's happened. But, being Casualty, there are various twists and turns along the way!"
MORE: Read more about this Saturday's episode (opens in new tab)
Are we going to see Ethan really struggle in the coming weeks in Casualty?
GR: "Actually, we took a positive spin with the arrival of this new character in this week's episode. Rather than wallowing in the attack, he's got something to do – even if it does mean he ignores the underlying issue of probable PTSD. He doesn't deal with what's happened."
The theme this series focuses very much on the NHS under pressure – can you hint at what's to come?
GR: "The focus is on the hierarchical system of hospitals, so a huge work load is being put on Dylan Keogh, who's running the hospital; and Dylan's putting in on Ethan, below him; and Ethan's putting it on Rash; and Rash is putting it on a new F1, Mason, that Ethan's supposed to be mentoring, so there's a big storyline coming up between all these characters and how they pass on their duties and how everyone's stressed and struggling under the weight of their responsibilities. It's a true reflection, I suspect, of what it's like working for the NHS."
MORE: Read about Victor Oshin's ED debut as Mason (opens in new tab)
So more long days and big storylines for you, by the sounds of it?
GR: "It's been a really busy four months since we started shooting at Easter - I've been flat out. But I love it and enjoy being given a challenge at work. The nature of the show is doing a heavy stint and then it'll be quiet for a bit, so when you get a chance to flex your muscles, you want to just throw yourself into it."
One last thing – we've got to ask! - is romance on the cards for Ethan?
GR: "There's definitely the potential for that coming up! I don't want to give too much away, but there's a possibility. Watch this space!"
Interview by Rebecca Fletcher
Writer for TV Times, What's On TV, TV & Satellite Week and What To Watch
With twenty years of experience as an entertainment journalist, Elaine writes for What's on TV, TV Times, TV & Satellite Week and (opens in new tab)www.whattowatch.com (opens in new tab) covering a variety of programs from gardening and wildlife to documentaries and drama.
As well as active involvement in the WTW family's social media accounts, she has been known to get chatty on the red carpet and wander into the odd podcast.
After a day of previewing TV, writing about TV and interviewing TV stars, Elaine likes nothing than to relax… by watching TV.
Thank you for signing up to Whattowatch. You will receive a verification email shortly.
There was a problem. Please refresh the page and try again.