Strictly's Gleb Savchenko tackles MasterChef: 'I'd love to be a chef'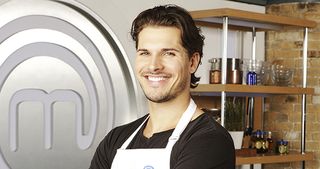 (Image credit: BBC/Shine TV/Cody Burridge)
Gleb Savchenko reveals how desperate he is to make the semi-finals of Celebrity MasterChef and why he's not returning to Strictly Come Dancing
Rather than gliding over the dance floor (who could forget his sizzling Paso Doble at the Blackpool Tower Ballroom with Countryfile's Anita Rani?) Gleb Savchenko is cooking against singing legend Jimmy Osmond, TV presenter Cherry Healey, antiques expert David Harper and Olympic boxer Audley Harrison, in the final heat week of the BBC1 cookery contest Celebrity MasterChef.
Here, Gleb Savenchenko, who began dancing at the age of eight and has starred on the US, Australian and Russian versions of Dancing with the Stars, talks pancakes, his Strictly departure and why he hates all things sparkly…
You're used to being rated on the dance floor, Gleb – what about in the kitchen? "You want a mark? Okay, I'll give myself seven out of 10!"
You mean a "Se-VEN!" as Strictly's Len Goodman would say? (Sorry, couldn't resist!) "Well, I'm not bad. I can cook simple food like grilled chicken, salads and soup – but I'm no professional and definitely not a master chef. I learnt to cook from watching my mum and grandmother in the kitchen as a young boy. Russian family celebrations always centre round the table so food was everywhere. The first thing I ever made was a cheese and ketchup bread sandwich, which I microwaved and thought was the most delicious thing ever. My cooking's a bit more sophisticated now – at least I think it is!"
What did you think when you were asked to take part? "How awesome. I love watching the show, love food and was excited about learning something new. I always want to challenge myself. And my wife, Elena [the couple married 10 years ago and have a four-year-old daughter, Olivia] made me say yes. She's not a big cook herself and was like, 'Finally, we're going to have decent meals to eat!'"
Did stepping out in front of millions of viewers on Strictly make your first day in the kitchen a doddle? "Do you know I was relaxed until that first challenge when I opened the Mystery Box. I was like, 'Omigod, what am I going to do!?' I totally ignored the raw meat I didn't recognise – it was duck apparently – and decided to make pancakes with an almond, lemon and vanilla pear sauce. Gregg praised my palate!"
Talking of judges, are MasterChef's John Torode and Gregg Wallace as mean as Craig Revel Horwood? "No, John and Gregg aren't mean at all! I found them supportive, but they do pile the pressure on, without meaning to. Even when you're doing something right, they make you feel you're doing it wrong, just by the way they look at you."
How much practising have you done for this competition? "I'm practising every day. When I started dancing as a young boy I put a lot of pressure on myself to be the best I could. I practised nearly all the time as I didn't want to let my family down and it's the same now, so I'm up making salads, soups and desserts until the early hours of the morning. Elena's my guinea pig, but I cook high-calorie stuff so, being a dancer, she's trying not to eat too much!"
How are you planning to impress the judges with your final two-course meal? "I'm going back to my childhood and cooking the food I used to eat, so chicken patties with a porcini mushroom sauce and a Russian salad made of diced potatoes, carrots and smoked Russian sausage, served with a shot of vodka of course! They're pretty complicated dishes to pull off in an hour though."
How much do you want to get through to the semi-final? "Badly. That would be amazing. I got close to the glitterball trophy with Anita, so it would be great to get the MasterChef one, but I know I'm not the best cook in the world and don't have 120 dishes to impress the judges with. I'm very competitive, though; after dancing for 25-odd years, competition's in your blood. I want to win.
Anita hadn't danced before Strictly but made the semi-final due to hard work… has she inspired you? "Absolutely. I'm totally out of my comfort zone here, but as my career and Anita shows, practice makes perfect. I'm hoping she'll be watching."
So how does MasterChef compare to your Strictly experience? "It's shorter! And less exhausting on the legs. And there are no sequins. I don't like wearing stones or anything shiny and sparkling, even when I'm dancing – it's not me!"
Okay, so if we promise no sequins, might we persuade you to sign up for another series of Strictly? "Sorry! I had an amazing time on the show and really enjoyed it, but I've decided not to return due to family commitments. I'll definitely be watching though."
So what's next? You're not thinking of retraining to become a chef after this are you? "Believe it or not, I had a moment working in the professional kitchen when I thought I could make a good chef. I think it'd be a great job, but what I really want to do is open my own coffee shop. I can make the cakes for it now!"
Watch Gleb's exploits on Celebrity MasterChef from Thursday, July 142 on BBC1
Get the latest updates, reviews and unmissable series to watch and more!
Thank you for signing up to Whattowatch. You will receive a verification email shortly.
There was a problem. Please refresh the page and try again.