Gogglebox secrets revealed: 'The cast are people who never wanted to be on TV'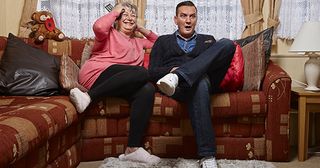 As the show returns for its eighth series, we caught up with Gogglebox executive producer Tania Alexander to exclusively reveal the secrets behind the phenomenally successful Channel 4 hit.
We film over 200 hours of Gogglebox footage every week. Then we edit it down and use less than 1% of that. From Friday to Wednesday we have five filming crews out in five households. Some of the families are filmed twice a week, others just once.
The cast were and still are people who never wanted to be on television. I have to persuade people to do it and that's got even harder as the show has got bigger. The people who don't want to be famous are the ones we want for the show.
We still find people in the same way as we always have; I send teams to walk the streets. We comb the UK to find the people who will work. We look, we listen, and we find the people who naturally make us laugh without knowing they are funny.
The cast needs to be able to react in a funny, insightful and quick way to what they see. Part of the process of finding people is we hold up cards with a headline, or a picture of Simon Cowell or Prince Charles and film how they react. It's also a great way to see how the family dynamic works, who is the loudest, who is in charge and who always gets shouted down.
Nothing is funnier than real people. Even right at the beginning, when most people thought Gogglebox was a terrible idea that would never work, I knew, with the right cast, it would be great. If it was funny people would come to it.
Leon was keen from the start. We found him in a bridge club and he was sold. But June, right up to the eve of filming, we were still persuading her to give it a go.
It takes two hours to set up in each household. Two small cameras go in the living room and then we use a bedroom or the kitchen to create a temporary gallery where a crew of four will sit and watch the action.
Trust is incredibly important. We've been with many of these families for four years, in their homes for 14 or 15 weeks at a time. In fact 80% of our original families are still with us. We will never make them look bad.
We have had accusations of being scripted. But that is only because people can't believe how good our cast is. The show only works when their reactions are natural and spontaneous, if someone was asking them questions it would feel stiff and dry.
Lots of people write to us saying they would be great on the show, but actually there are very few people who can do what our cast do. And I know that because there are lots of people we have cast that have never seen the light of day.
I have three rules. If we are reviewing shows with real people in, we are never mean or nasty. These are just normal people and so are we watching it. Celebrities on the other hand have put themselves out there so they are fair game as long as it's not personal. For the politicians it's open season – say whatever you like!
Viewers always hate a new family and we have some corkers coming up in the new series. But we always call them on the night of the show and say avoid Twitter, which can be particularly vile. It's like when a new family comes into EastEnders or Corrie, nobody likes them for ages and suddenly they get a storyline and you forget they are new. No one liked the Moffats when they started, or Giles and Mary.
The cast need to remain as normal as possible. It's tough; we are creating recognisable stars that get mobbed when they go shopping. But the integrity of the show is based on them being just like the viewers who say what we are all thinking. So you don't see the cast on the red carpet or out together. I'm not always popular by saying, "No you can't go to the opening of an envelope!"
Get the latest updates, reviews and unmissable series to watch and more!
Thank you for signing up to Whattowatch. You will receive a verification email shortly.
There was a problem. Please refresh the page and try again.