Hannah Spearritt: 'Boxing for Sport Relief makes me want a physique like Nicola Adams!'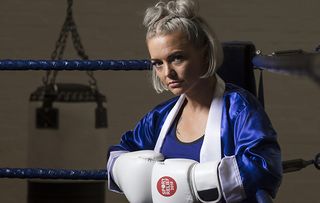 (Image credit: BBC / Jon Enoch)
Hannah Spearritt spills the beans on how she is limbering up for Celebrity Boxing for Sport Relief
Hannah Spearritt is facing the toughest challenge of her life as she steps into the ring with The Saturdays' Vanessa White for a special celebrity boxing bout in aid of Sport Relief.
The Celebrity Boxing match will air as part of Sport Relief Night and here actress and former S Club 7 singer Hannah Spearritt tells TV Times about why she's in it to win it…
TV Times What made you say yes to Celebrity Boxing?
Hannah Spearritt: "It was a no-brainer. I want to raise lots of money and it's fantastic that we're doing the first female boxing matches for Sport Relief and empowering women. Also, I have always wanted a six-pack so I hope I end up with a physique like Nicola Adams!"
TVT Have you found the training tough?
HS: "I've done boxercise before and I did kick-boxing training when I did Primeval. But this is hard and I really ache. We're being taught by England Boxing who really know their stuff and I've been doing a lot of running and hill sprints and just upping the ante."
TVT Is it hard to get hit?
HS: "Defence is one of the first things I have had to learn. When I sparred for the first time the girl I was bouting with was coming after me. To get away from her I did a pirouette, so hopefully I won't do that on the night!"
TVT How do you rate your chances?
HS: "We've been kept apart until the weigh-in so I haven't seen Vanessa box. But I think we'll be a good match. I'll put everything into taking her down! I'm in it to win it. I'm excited about having my own boxing nickname and music playing as I come in, so it will be a real spectacle."
TVT Has it given you a new respect for boxers?
HS: "Absolutely. It's such a tough sport and such a great way to get fit. I think it will be something that I'll definitely continue. It's really good for anxiety, which I've suffered from in the past. You really have to focus, so it uses that mental energy."
TVT You recently played Karen Taylor's sister Kandice in EastEnders. Did you enjoy that and could you return?
HS: "I've never done soap before and it was really good fun. The character was great to play and I've loved EastEnders since I was mini. It was really good to get on the Square and be involved in such an iconic soap and to be part of the Taylor family who have been really well received. I think there's more from her to come, but we'll have to wait and see…"
Celebrity Boxing airs as part of Sport Relief Night on Friday 23rd March on BBC1 and BBC2 from 7pm
Get the latest updates, reviews and unmissable series to watch and more!
Thank you for signing up to Whattowatch. You will receive a verification email shortly.
There was a problem. Please refresh the page and try again.