Harry Potter star goes to The Wizarding World of Harry Potter... and no one recognises them!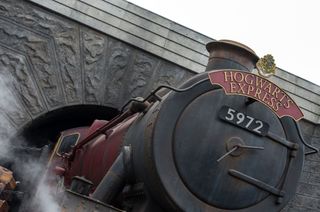 (Image credit: AFP/Getty Images)
Harry Potter fans failed to spot Kelly Macdonald!
With a CV including hits like Boardwalk Empire, Trainspotting and No Country For Old Men, Kelly MacDonald has enjoyed a glittering career on the big and small screen. One of her favourite roles was that of Helena Ravenclaw in the final film of the Harry Potter franchise, yet while most of her co-stars are routinely mobbed by Potter fans, poor Kelly receives no such adulation.
"People rarely talk to me about Harry Potter because I came into the series very late," says the Scottish actress. "I went to The Wizarding World of Harry Potter at Universal in LA with my kids a few years ago and I was hoping someone might recognise me there – but nothing!"
Yet despite not being spotted by a host of American wizarding fans during her visit to the theme park, Kelly still has fond memories of her part in the closing stages of the eighth and final film, Harry Potter and the Deathly Hallows Part Two.
"I was last to film my scenes, so I was pretty much acting on my own. It was just me, a green screen and a cardboard cut-out of Daniel Radcliffe," she explains. "It's always a thrill when I go into the Harry Potter shop and see the navy-and-grey scarves because that was my character's House! I don't support any sports teams so that's as close as I get. Team Ravenclaw!"
WHAT IS ON TONIGHT? Check out our NEW and Improved TV Guide
Kelly appears Giri/Haji a new crime drama set in Japan and Britain that follows the story of a Tokyo detective who comes to London on a mission to track down his brother, an assassin for the Japanese mafia - or "Yakuza".
The Scottish actress has high hopes for her new series and says it feels as fresh as Trainspotting, the 1996 hit that proved her big break...
"There was such a great atmosphere on that film," she says. "There was camaraderie and it felt like we were all in it together. With GIRL/HAJI it just felt similar. Some things have this energy and it feels brand new, which was what Trainspotting was at the time. It has the same sort of vibe!"
Giri / Haji begins on BBC2 on Thursday 10 October at 9pm.
Main picture: AFP/Getty Images.
Get the latest updates, reviews and unmissable series to watch and more!
Thank you for signing up to Whattowatch. You will receive a verification email shortly.
There was a problem. Please refresh the page and try again.