Helen Baxendale: 'Cuckoo brings out my wild side'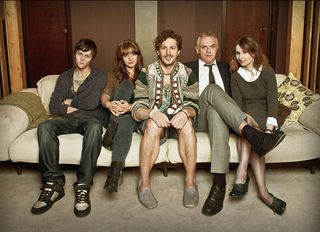 (Image credit: BBC/Roughcut TV)
The former Cold Feet star discusses her new BBC3 sitcom, Cuckoo, which premieres on Tuesday, September 25... Tell us about your new role... "My character Lorna is married to Ken, who is played by Greg Davies. They have two children – Rachel and Dylan. Rachel has done her A-levels and has got accepted into university to study medicine. She's been away for a gap year travelling and off we all go to pick her up at the airport - really excited to have her back." Sounds like it's all happy families... "Not exactly. Rachel turns up with this idiot of a man, Cuckoo, who she has married! She hasn't told us anything about him and she brings him home to live with us and it's really about how we all cope living together." What kind of a son-in-law is Cuckoo? "He's a bit of a hippy, he has his own kind of theories on life and they don't sit easily with Ken and it causes lots of friction. Lorna is a bit of a peacemaker and she wants to smooth it all over and make it all right. Lorna is also really shocked and horrified when we first meet him, but she quickly comes to like him. So I end up being on his side a lot of the time." How else would you describe Lorna? "She sees the world differently from her husband. She's also been a bit of a tearaway in the past when he's been quite straight. Cuckoo kind of brings that wild side out of her again." Cuckoo is played by American comic Andy Samberg – what's he been like to work with? "He was fantastic. We all really hit it off. He did do things really differently being from a stand-up background, he's very relaxed on what he does. It's been quite a learning process." Your character is the mum of a married woman – that doesn't seem right! "A few people have said that! But it is possible. I am the mum of three, one of whom is a teenager, a daughter. What it is I think is that there's part of you on telly that stays whatever age you were in the programme that people most remember you being in. Unfortunately, that's not real life!" You are best known for your roles in Friends and of course Cold Feet. We have to ask, even though your character is dead, is there a reunion episode on the cards? "I don't think it will happen, maybe it will – maybe they'll all be in a care home?! People do ask all the time. But really I can barely remember that period of my life!"
Get the latest updates, reviews and unmissable series to watch and more!
Thank you for signing up to Whattowatch. You will receive a verification email shortly.
There was a problem. Please refresh the page and try again.