Here Come The Munsters (1995) | DVD release – This TV movie prequel pays homage to the first family of fright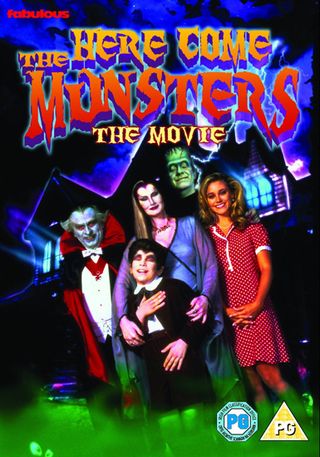 The 1995 TV-movie, Here Come The Munsters, which is now out on DVD in the UK, was first screened in the US on Halloween night in 1995, and starred Edward Hermann (The Gilmore Girls), Veronica Hamel (Hill Street Blues) and future Mad Men actor Robert Morse in the lead roles. Serving as a prequel and a reinvention of the original 1960s TV series, it found the family forced to flee their native Transylvania for America, where they settle into the home of Herman's comatose sister Elsa at 1313 Mockingbird Lane. While Lily tries to win over the neighbours, including the nosey Mrs Dimwitty (Mary Woronov), and Herman finds his perfect job at the local undertakers, its down to Grandpa to find an antidote for Marilyn's dad, Norman Hyde (Deep Space Nine's Max Grodénchik), who has accidentally turned himself into a xenophobic Republican, Brent Jeykll (Jeff Trachta).
Hermann, Hamel and More do a great imitation of the original characters as played by Fred Gwynne, Yvonne De Carlo and Al Lewis, who great a neat cameo in a restaurant scene with Pat Priest and Butch Patrick (the original Marilyn and Eddie). The slap-shtick comedy is lifted straight out the 1960s series, as are many of the puns and visual gags that made the series so memorable. Mind you there are also some new ones like Lily's creaking stair-climber to bring it up to date (1990s style). The film's script, from future Big Bang Theory co-creator Bill Brady, meanwhile, errs on the side of caution in making fun of Republicans, low-fat diets and anti-immigration laws.
Playing Marilyn here is Ben Stiller's future wife, Christine Taylor, who is so annoyingly chirpy that she seems to be channeling her Marcia Brady character from the Brady Bunch movies, while cult movie favourite Mary Woronov is wasted as the neighborhood watch busybody and she deserved more scream time. Unfortunately, the Munster Mansion that was used in the TV series (and which ended up being redressed for Desperate Housewives) doesn't make an appearance here. Making welcome return, however, is the original Munster Koach, designed by George Barris, who also did the Batmobile for TV's Batman, the show that help sealed The Munsters fate back in the 1966s.
While Here Come the Munsters can't beat the original series, or indeed the first screen outing (in colour), 1966's Munster, Go Home (also available from Fabulous Films), its old school charm pays a nice homage.
Here Come the Munsters is available on DVD in the UK from Fabulous Films
Get the latest updates, reviews and unmissable series to watch and more!
Thank you for signing up to Whattowatch. You will receive a verification email shortly.
There was a problem. Please refresh the page and try again.