Hermione Norris: 'My Marple character is awful!'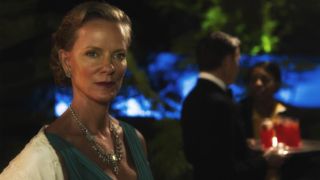 Cold Feet star Hermione Norris talks about her role in this week's Marple whodunnit A Caribbean Mystery (ITV, Sunday)...
Your character, Evelyn Hillingdon, let's Miss Marple into a few dark secrets following a mysterious death at a luxury Caribbean beach resort called Golden Palms. Tell us more!
"Evelyn's wonderful - she really made me laugh with her catty remarks and sharp wit. At one point she says: 'Old men are so ugly. I think they should all be put to death at 40!' She seems awful, but she suffered something in her childhood which means she'll do anything to protect her children."
Were you a Miss Marple fan already?
"Oh I absolutely love Marple, I used to love Joan Hickson playing her – she was brilliant."
The screenwriter Charlie Higson, author of the Young Bond book series, plays a character called James Bond in this. Not the James Bond, surely?
"No, it's so funny, he's an ornithologist giving a lecture. I'd never worked with Charlie before, but I just think he's fantastic. He writes really well."
Apparently this was filmed in South Africa, not the Caribbean, but it still looks like you had great weather...
"Unfortunately we had torrential rain for most of the month we were there! The production team did a great job of lighting everything cleverly to make it look sunny. In one night scene... we were all pretending to be boiling hot, even though we had thermals on!"
Did you take your family along?
"No I went on my own. My kids are all at school so it was easiest for me just to go over, do the job and come back."
Any idea what you'll be doing next?
"I'd love to do some comedy, but as an actor you wait to see what you're invited to do and make your decisions accordingly. Who knows where the wind will blow me..."
Get the latest updates, reviews and unmissable series to watch and more!
Thank you for signing up to Whattowatch. You will receive a verification email shortly.
There was a problem. Please refresh the page and try again.