Holby City's Bob Barrett: 'Jac is like Sacha's guardian angel!'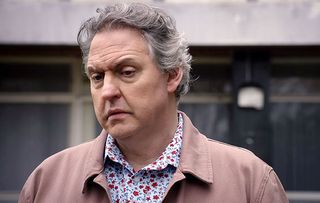 (Image credit: BBC)
It's been a few weeks since Holby City's Sacha Levy tried to take his own life. As he continues to battle with his demons next week, help comes from a familiar face, as Bob Barrett reveals...
Holby City star Bob Barrett on how Sacha gets by with a little help from his friends...
Holby fans were really worried about Sacha a few weeks back when, in the grip of his depression, he considered taking his own life in dramatic scenes on the hospital rooftop. Now that he's back at work, how's he doing?
"Well, Sacha has three weeks' off and he comes back thinking: 'Everything's fine, I can cope'. He thinks he's fine, but we can see he's not totally. There are these amazing scenes between Sacha and Frieda Patrenko, played by the wonderful Olga Fedori.
"Frieda sees Sacha at a low point and he talks a bit with Frieda, who reminds him she's not the touchy feely type. Sacha sees Frieda grab some boxing gloves and walk out and he follows her and finds she's boxing. So Sacha and Frieda have these sparring sessions and he takes his pain out on the punchbag. It really helps him."
Young patient Tyler Saba returns to Holby this week for a bowel transplant. Can Sacha cure him?
Next week, however, Tyler Saba, a young man with Crohn's disease, returns to the hospital for a small bowel transplant. Does Sacha feel under pressure?
"Yes! It's a big day for Sacha as he's the one who has to operate on Tyler. Tyler survives the surgery but the emotional pressure this puts Sacha under, plunges him right back into the turmoil he was in before and, later, he slumps on the stairs crying."
At that moment, Sacha's loyal friend and colleague Jac Naylor (Rosie Marcel) appears and is deeply concerned to see him in such despair…
"Jac's like Sacha's guardian angel; she knows that something more than the operation is troubling him. That's when Sacha confesses to Jac that he recently tried to take his own life."
Jac's devastated when she hears that her good friend and colleague Sacha tried to take his own life
How does Jac react when she hears this?
"She's furious and asks him: 'Why didn't you tell me or Essie?' He says: 'I couldn't, I just couldn't'. Sacha feels he should quit his job and he storms off saying: 'You can't help me, no one can!'"
Can Jac help him?
"Yes. Jac reminds Sacha that he's her best friend in the world and TELLS him that he's coming to live with her, so that's what he does."
Jac Naylor doesn't like ANYONE! Why are Jac and Sacha such good friends?
"They are the absolute opposites but, from the minute they met each other, they've always got on. He completely sees straight through what everyone else struggles with when it comes to Jac and, equally, she talks to him like no one else talks to him. But he sees straight through everything and straight to her heart and he knows that, actually, Jac has the greatest heart. They utterly trust each other, which is a wonderful thing. I love my scenes with Rosie."
It seems Sacha has turned a corner in getting well again in Holby City - but he still has a long way to go...
So can we assume Sacha's now well on the road to recovery?
"Well, we have to be careful to tell the story properly. It can't just be a case of Sacha moves in with his best mate Jac and everything's marvellous! It's got to be one step forward, two steps back. So this certainly marks the start of Sacha's rehabilitation – but we know it's going to take a while."
Holby City continues Tuesdays at 8pm on BBC1.
Get the latest updates, reviews and unmissable series to watch and more!
Thank you for signing up to Whattowatch. You will receive a verification email shortly.
There was a problem. Please refresh the page and try again.