Hugh Quarshie: Ric Griffin is at the heart of a massive incident in special Holby City episode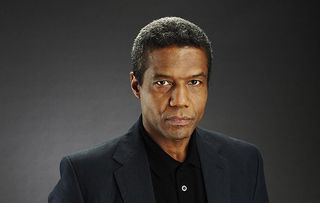 (Image credit: BBC)
Holby City star Hugh Quarshie tells all about the medical drama's action-packed National Health Service anniversary special...
Banners and balloons are up, party food is laid out and speeches have been written as the medical staff at Holby City get ready for an after-work bash this week to celebrate the milestone 70th anniversary of the National Health Service.
However, the plans are soon put on ice after a major incident, resulting in multiple casualties. Tensions are running high but fortunately steady-handed senior surgeons Ric Griffin and Serena Campbell are at the helm.
Here, Holby star Hugh Quarshie, 63, tells TV Times why he's delighted Ric is at the centre of the action…
This week's episode sounds extra special; what happens?
Hugh Quarshie: "We were very conscious of the NHS's anniversary so there's a marked urgency about this episode. There's a major incident when a market roof collapses and we've got to deal with the consequences of that. Then, when everybody's ready to go home or celebrate at the end of the shift, suddenly there's another incident that sees the fire fighters and ambulance services needing treatment as well. It is poignant in that the NHS is a 24/7 operation and the people who work in it are often selfless and go above and beyond the call of duty."
Is it an especially action-packed episode?
HQ: "Yes, there's a lot of activity on the Acute Admissions Unit (AAU)! In our sister show Casualty there's always a near-catastrophic accident that sparks everything into life. With Holby it usually happens off-screen and you see the effects pouring onto the wards of the AAU, which is an extension of the emergency department, in a way. Trying to tell characters' stories as well as following the effects of the major accident was a challenge, but it's one of those episodes where you think 'We did a good job there'. I think we got the balance right."
Was it intentional to put experienced medics Ric and Serena (played by Catherine Russell) at the heart of this episode?
HQ: "I think so. Serena and Ric are based in AAU at the moment. Viewers are all probably aware of the strengths and failings of the characters of Holby City. This is an opportunity to see these professionals who are, in spite of their flaws, very good at their job and quite inspiring. You wonder, are they good at their job because of their flaws or in spite of them?"
How do the other characters cope in this situation?
"They all have to deal with people and incidents that go outside their training. They also have to restrain their personal feelings and just get on with the job. It tests their resolve – and sometimes they fail that test! But when Serena asks for a show of hands at the end of the shift no one has to be prodded, all hands go up and everybody steps forward to volunteer. There's some stress relief at the end when Ric and Serena get to the party late and decide to celebrate anyway!"
Former EastEnders star Gary Beadle guest stars as Lennie Jefferies, a patient from Serena's past…
"It was great to have him on set. Gary's one of those impressive actors, wherever he goes he brings a lightness of touch, humour and also an intense focus of concentration. Serena has a touching reminder that surgeons aren't just accountants or traffic wardens. Sometimes a patient forms an attachment to their surgeon and they can become a role model."
What are your personal feelings about the NHS?
"For me, the NHS is one of the jewels in the cultural crown of this country. The NHS is struggling to do what seems an impossible job. The demands on it are probably more than the NHS, as it's currently funded, can do – yet they keep trying and don't give up. That really touches me. The NHS is, quite rightly I think, the pride of this country and the envy of many others. It would be a calamity if it were allowed to collapse and go down the privatisation road. Certainly my family have benefited from the NHS. It's massively reassuring to know it's there in case you have to rely on it…"
Holby City continues on BBC1.
Get the latest updates, reviews and unmissable series to watch and more!
Thank you for signing up to Whattowatch. You will receive a verification email shortly.
There was a problem. Please refresh the page and try again.