Holby City's Lee Mead talks Lofty's shock revelation! (VIDEO)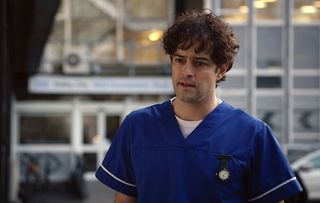 (Image credit: BBC)
In Tuesday night's Holby City, viewers found out what nurse Ben 'Lofty' Chiltern had been up to to while he'd been on his travels – and a lot more besides! Lee Mead tells us more...
Holby City fans uncovered a major secret about Ben 'Lofty' Chiltern on Tuesday night – as it was revealed the nurse is in fact gay!
Events began to unfold when a patient, Lenny (Micah Balfour), was admitted onto Keller with severe stomach pains. It soon became evident that Lofty (Lee Mead) and Lenny knew each other, but Lenny seemed far from pleased to see him and blurted out the reason for his hostility to his colleagues Sacha (Bob Barrett) and Dominic (David Ames).
"Lofty had met a lady, Alice, on his travels and they became very close, had this great bond together and they got engaged," Lee Mead told What's on TV. "Lofty ended up jilting her at the altar, so this obviously comes out with Dom and Essie and the guys at work, and they slowly get to see this other side to [him]."
That wasn't the whole story, however, and viewers soon got an idea about why that relationship broke down – as he then kissed Lenny on the ward!
"It turns out that Lofty had fallen for her brother," revealed Lee. "So there's a bit of a love triangle thing going on there between Lenny, the ex-fiancee and Lofty."
Lee admitted there was never any suggestion that Lofty might be gay when he played the character on Holby's sister show, Casualty.
"Lofty's sexuality was never brought up really, but I was saying to Ollie Kent, the exec on the show, that I was more than happy to play Lofty gay," said Lee, who admitted he didn't want him to be defined by his sexuality.
"I didn't want to do this thing that's been done before in a lot of shows about the struggle of coming out. I think we live in such a modern society now and times have changed very much and moved forward. You're not defined by your sexuality... you, me, none of us, it's about the person you are.
"So, for me, it's very much matter of fact and the audience just discovering this side to Lofty, which we really nice to play actually. I had a great director in Jermaine Julian, who really helped with the storyline and I'm really proud of the stuff we shot."
Holby City continues Tuesdays at 8pm on BBC1.
Get the latest updates, reviews and unmissable series to watch and more!
Thank you for signing up to Whattowatch. You will receive a verification email shortly.
There was a problem. Please refresh the page and try again.