Hollyoaks' Gregory Finnegan reveals surprising future for James Nightingale and Harry Thompson as they finally reunite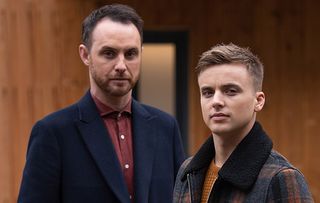 When it comes to Hollyoaks romances, Harry Thompson and James Nightingale haven't exactly had an easy ride.
After finally reuniting earlier this month, James swiftly cut things off choosing to concentrate on building a relationship with his estranged son Romeo Quinn instead.
But this week, the pair will finally give things a proper go after James unexpectedly confesses his love for Harry (Parry Glasspool) while gatecrashing his blind date with a new man.
And now Hollyoaks actor Gregory Finnegan - aka James - has revealed what's in store for the unlucky-in-love pair for the first time - and it looks like they might just get their happy ending.
Speaking to Digital Spy, Gregory confessed: "James and Harry's relationship has been up and down – a real slow burn. I'm quite pleased now to see if they can have some happiness going forward and work things out.
"We've done a lot of 'will they / won't they?' stuff leading up to this, so it's quite nice now to explore if they can be a proper couple. We'll see if that works in reality, without all the distractions of Ste and all the rest of it."
Ahead of next weeks episodes - which will see unreliable lawyer James finally lay his heart on the line - Gregory also revealed how Harry reacts to his declaration of love.
"It has mixed results and it doesn't go quite how James is expecting it to go initially," he said.
"But towards the end, it starts to turn back in the right direction. It's James putting himself in a position of laying out his feelings openly, which he's not particularly good at doing."
When asked what the future holds for 'Jarry' now that they will be living under the same roof as teenager Romeo, Gregory explained: "Romeo giving his blessing for the relationship is really important. The most important thing to James is trying to fill that father role and step up. He really wouldn't have done anything without Romeo's approval, so he's pleased to have the way cleared with it.
"I think it's going to be a little bit busy with the three of them in the house and a bit odd! I suspect the age difference – which is not as great as some people seem to think – may play a part.
"We'll see the relationship between Harry and Romeo develop and whether or not that plays a part in James's relationships with both of them as well, so I think it'll be interesting. I hope Harry and Romeo do become friends."
Hollyoaks is shown weekdays on C4 at 6.30pm with the next episode following on E4
Thank you for signing up to Whattowatch. You will receive a verification email shortly.
There was a problem. Please refresh the page and try again.