Ian McKellen: 'My star pals are desperate to be in Vicious!'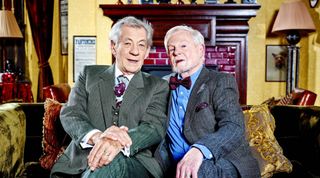 Ian McKellen has revealed his star pals are queueing up to appear in sitcom Vicious.
The 76-year-old Lord Of The Rings star plays actor Freddie in the comedy, co-starring Sir Derek Jacobi as his partner Stuart.
Dame Judi Dench (Joel Ryan/AP)
Dame Judi Dench recorded an answerphone message that was played in the last series of the show, and Celia Imrie is set to make a cameo in the new series when it returns to ITV on June 1.
Sir Ian revealed: "It's the greatest disappointment in Dame Judi's career she hasn't actually appeared in this.
"She was all up for appearing in it, she absolutely wanted to appear in it, and she had been written into it but something happened professionally that meant she couldn't but she did get to record her message.
Celia Imrie appears in the new series of Vicious (ITV)
"Maggie Smith is fuming. Well, I know Patrick Stewart is desperate to be in it. He's very jealous of this relationship. And others."
But despite having worked on stage and screen for years, Sir Ian confessed he does get a little nervous recording the comedy in front of a live studio audience.
Iwan Rheon stars with Ian McKellen and Derek Jacobi in Vicious (ITV)
He said: "I've found it a bit nerve-wracking really, when the audience arrives. I rather wish they weren't there and I could just get on with it. We have to keep stopping and starting and we do each scene twice at least and I worry about, I shouldn't be worrying, I should be concentrating on. That's the only negative about it."
Vicious returns to ITV on Monday 1 June at 9.00pm.
Get the latest updates, reviews and unmissable series to watch and more!
Thank you for signing up to Whattowatch. You will receive a verification email shortly.
There was a problem. Please refresh the page and try again.