Idris Elba: 'I always wanted to be in Only Fools and Horses'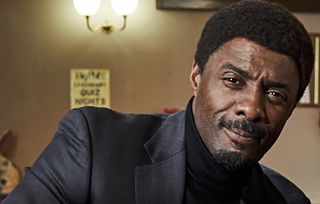 Idris Elba on unleashing his funny bones in new comedy In The Long Run, based on his own childhood in the 1980s
Idris Elba isn't known for his comedic side but that's all about to change. The Luther star is appearing in Sky One's new comedy In The Long Run, which is inspired by his own childhood in East London in the 1980s and sees him play factory worker Walter.
Here, Idris Elba gives TV & Satellite Week the lowdown on In The Long Run and the challenge of dipping his toes into comedic waters…
TV & Satellite Week: How closely do Walter and his family resemble your own?
Idris Elba: "Walter comes from Sierra Leone and is based loosely on my dad, Winston, and his 12-year-old son Kobna [Sammy Kamara] is based on me. Walter's proud of Kobna but he tries to make him man him up but then Walter's brother Valentine [Jimmy Akingbola] turns up and is the complete opposite. He's a big character and gets Kobna to step out of his shell. My favourite uncle was like that and taught me about girls and how to DJ. My dad was not like that!"
TVSW: What has it been like seeing your own childhood played out in front of you?
IE: "We've embellished things that influenced me as a kid but reliving my favourite memories is nice but strange. I had asthma and we did a scene today where Kobna goes to hospital and I froze because it brought back memories of when I spent time in hospital. It felt weird and bittersweet to film it because I know how it worried my mum and dad at the time."
TVSW: Did you always want to make it a comedy rather than a drama?
IE: "Yes, because I felt there had to be a statement or big message if we did it as a drama and I didn't want to focus on racism in the 80s, I wanted to take a comedic stance and show a snapshot of life. Selfishly, I also wanted to try my hand at a comedic role. I always wanted to be in Only Fools and Horses; I just never got the audition."
TVSW: Have you found doing comedy tough?
IE: "It is a challenge because I tend to ham it up. But I enjoy it and I drew on my dad's comedic side. He was reserved but as soon as anyone was in the room he'd say, [puts on a booming laugh] 'Hey, hey, hey! Let me tell you about this one time…'"
TVSW: The fifth series of Luther will be out later this year, have you enjoyed returning to that?
IE: "Yes, it has been brilliant. Luther's a hard show to make because we shoot it in the winter and it's grim but he is one of my favourite characters ever and it feels very special to me because it changed my life."
TVSW: Is there anything you'd still love to do?
IE: "A musical. Why not? I'm not a great singer but I'd give it a go. We could do In the Long Run: The Musical with shellsuits and jerry curls – awesome!"
In The Long Run airs on Sky One on Thursday 29 March at 10pm and all episodes will also be available to stream on the same night
Caren has been a journalist specializing in TV for almost two decades and is a Senior Features Writer for TV Times, TV & Satellite Week and What's On TV magazines and she also writes for What to Watch.
Over the years, she has spent many a day in a muddy field or an on-set catering bus chatting to numerous stars on location including the likes of Olivia Colman, David Tennant, Suranne Jones, Jamie Dornan, Dame Judi Dench and Sir Derek Jacobi as well as Hollywood actors such as Glenn Close and Kiefer Sutherland.
Caren will happily sit down and watch any kind of telly (well, maybe not sci-fi!), but she particularly loves period dramas like Call the Midwife, Downton Abbey and The Crown and she's also a big fan of juicy crime thrillers from Line of Duty to Poirot.
In her spare time, Caren enjoys going to the cinema and theatre or curling up with a good book.
Get the latest updates, reviews and unmissable series to watch and more!
Thank you for signing up to Whattowatch. You will receive a verification email shortly.
There was a problem. Please refresh the page and try again.