Is this the greatest children's TV theme tune ever?! Do you remember Dogtanian and the Three Muskerhounds!?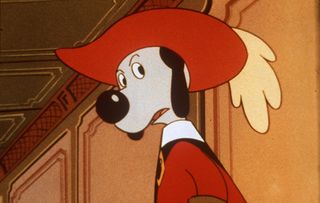 (Image credit: FremantleMedia Ltd/REX/Shutterst)
"One for all, and all for one..."
CBeebies sparked a wave of nostalgia among grown-ups across the country today for the days as a kid they watched Dogtanian and the Three Muskerhounds!
For those unfamiliar with the cartoon classic, which ran on the Beeb back in the 1980s, it was a fun, action packed adaptation of Alexandre Dumas's classic story with the added bonus it had dogs in the leading roles!
And CBeebies caused adults across the country to start singing it's wonderfully high-pitched theme tune - "One for all, and all for one, muskerhounds are always ready" -  today by tweeting a clip of the show's opening!
"Remember this theme tune? We're throwing it back to the 80s. It's Dogtanian and the Three Muskerhounds of course."
"This reminds me of coming in from school after picking up my Cadbury's Spira on the way home," said one fan, while another said: "Love this! Total throwback along with Willy Fogg and The Mysterious Cities of Gold."
Not all of the characters were dogs, of course, Dogtanian had a rather annoying mouse sidekick called Pip in the 26-part series.
One more time, then: "One for all and all for one, Muskerhounds are always ready. One for all and all for one, helping everybody. One for all and all for one, it's a pretty story. Sharing everything with fun, that's the way to be."
Anyone else feeling old now?!
Main pic: FremantleMedia Ltd/REX/Shutterstock
Get the latest updates, reviews and unmissable series to watch and more!
Thank you for signing up to Whattowatch. You will receive a verification email shortly.
There was a problem. Please refresh the page and try again.