Jaye Griffiths: Everybody is in crisis management in Casualty's 30th Anniversary (VIDEO)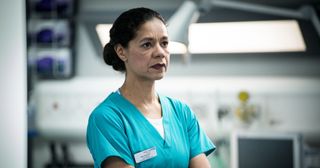 (Image credit: BBC)
Jaye Griffiths reveals Casualty is faced with an immense crisis during the 30th Anniversary episode...
Jaye Griffiths, who plays Casualty consultant Dr Elle Gardner, reveals Holby ED is faced with an immense event that sends everyone into crisis mode.
She also let's slip Elle is one of the Holby ED staff members who must help 'pick up the pieces' after disaster strikes in Holby.
One thing Jaye says, however, gives us hope Connie Beauchamp is still alive, even after that terrible road rage incident that saw her plummet off a ravine in her car with daughter Grace…
Talking to What's on TV on the set of Casualty in Cardiff, Jaye revealed: "I can tell you that there are many surprises and everybody goes into crisis management – especially Elle. And things change between her and Connie… that's all I'm prepared to say."
While she's not involved in the disaster Jaye is heavily involved in the aftermath and all it entails: "I've seen the trailer – phenomenal, it looks like a feature. Our director is so gifted we are beyond blessed… when I watched the trailer I was jumping – and I know what's going to happen! It's superb.
"I don't want to jinx is, but it feels like you've an immense responsibility to make sure your part doesn't let the side down because the sum of its parts must serve the whole. And the whole is magnificent.
"Even though we have immense laughs [behind-the-scenes] there is still that sense of we're making something a bit special."
For the full interview watch the interview with Jaye Griffiths, above.
Casualty's feature-length anniversary airs on BBC1 on 27th August.
For more Casualty news check our Casualty section
Get the latest updates, reviews and unmissable series to watch and more!
Thank you for signing up to Whattowatch. You will receive a verification email shortly.
There was a problem. Please refresh the page and try again.