JEALOUS Stacey Fowler to rage at Jean over Sean in EastEnders tonight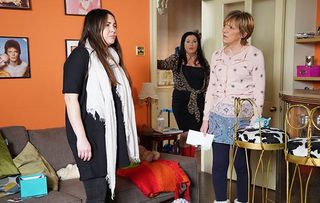 (Image credit: BBC / Kieron McCarron)
Stacey can't stand it anymore!
Stacey Slater fumes at Jean this evening in EastEnders as her mum goes on at her about how desperate she is to find Sean.
Stacey (Lacey Turner) is exasperated that Jean appears to care about everyone but her.
But Jean tells her: "I don't want Sean finding out he's missed his last chance to speak with me. We both know what that feels like, it haunts you. You can't suddenly turn back the clock and say all the things you want to say."
As Stacey asks Jean (Gillian Wright) why she's so bothered about other people's feelings, Jean asks her when she's so angry! "BECAUSE MUM all I've heard for months is Hayley, Hayley, Hayley, now all I'm going to hear his him," retorts Stacey, in the clip released by EastEnders.
At which point, Jean gives Stacey a few home truths and points out that there's nobody she loves more.
"I'm so proud of everything that you've achieved, against so many odds. You have got a wonderful husband and three beautiful children and I don't need to worry about you," Jean tells a clearly moved Stacey.
Of course we know Jean does achieve her goal of being reunited with Sean. And next week Sean and Jean will share some massive scenes together as they head out to a remote farmhouse.
And it's there Sean will make a shocking admission to Jean, Rob Kazinsky, who plays him, has revealed.
"He knows he might only have a short period of time where he could tell her the things he was always too afraid to say. Sean comes back to make peace so that if Jean does die she knows the truth."
EastEnders continues tonight on BBC1 at 7.30pm.
Get the latest updates, reviews and unmissable series to watch and more!
Thank you for signing up to Whattowatch. You will receive a verification email shortly.
There was a problem. Please refresh the page and try again.