Jekyll and Hyde's Mark Bonnar: 'My first adult role was the back of a panto cow!'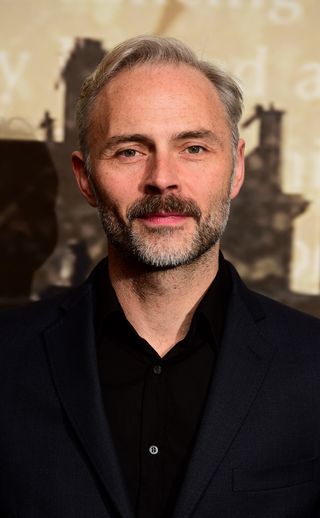 (Image credit: PA Archive/Press Association Images)
Scottish actor Mark Bonnar (opens in new tab) has been raising hell in ITV's Jekyll and Hyde, getting his kit off in Catastrophe, and gone to war in Home Fires.
In a recent chat with What's on TV (opens in new tab) for ITV's monster series, Mark spoke about his career and revealed how he made the leap from a desk job on the council's planning department to acting… With the help of a short stint as a panto cow!
Jekyll and Hyde reaches a dramatic conclusion over Christmas. Have you enjoyed playing media mogul Lord Protheroe?
"Lord Protheroe has been a real joy. He's merciless, opportunist and completely selfish - totally out for himself. Power is his bag! And because he's a media tycoon he doesn't give a tinker's cuss what anyone thinks of him. It's fun."
Is he a big player as Jekyll and Hyde draws to a close?
"He is. Whenever the dark side and powers of evil appear in the show, he's hovering in the background. He's in pursuit of something for his own ends…"
Is Jekyll and Hyde something you would have enjoyed watching as a child?
"Without a doubt! It's exactly the sort of thing I was brought up on. If it had been around when I was 10 or so, I'd have loved it – and been equally enthusiastic and terrified! But that's what being a kid is about at that age."
What did you watch as a kid?
"When I was young it was always Doctor Who. Tom Baker and John Pertwee were my Doctors. Every Saturday night without fail, I watched Doctor Who with cheese on toast for tea. It was absolutely brilliant. I also loved all the Ray Harryhausen stop-motion stuff, like Sinbad and the Eye of the Tiger. I was always into stuff that scared me."
Do you have any abiding memories of TV that scared you?
"When I was 10 or 11 BBC2 had a horror double bill, which was on round about 10pm on a Saturday night. I snuck downstairs one night and stood on a kitchen chair looking in through the glass above the door and saw the beginning of the first film. It was The Electric Man with Lon Chaney Jr. I was caught, obviously, but my mum and dad let me watch it because it was a fairly tame, Frankenstein-esque film in '50s black and white. But it really stayed with me. It was my first introduction into grown-up horror and I remember a lot of images from it."
As well as Jekyll and Hyde, you're also in Catastrophe and Home Fires. Does it feel like things are going well? Or is that a question you feel cautious in answering?
"I always feel cautious in answering questions like that, because you're only as good as your last job. It's the nature of any freelance work. I don't think there's time to sit back and feel good about your career. It can dry up at the drop of a hat. But it's nice that people like things you've done. I just keep my fingers crossed that things either go again, or new parts come along."
We're really hoping for a third series of Catastrophe at What's on TV!
"Me too! I still can't quite believe I'm in it. It's great. Writers Rob Delaney (opens in new tab) and Sharon Horgan (opens in new tab) are just geniuses. They've got a real talent for writing brilliant dialogue."
Did you always want to be an actor?
"To be honest I never thought of it as a career. When I was around 22 years' old I worked in the planning department of the district council. Two guys who worked there, Mike Paton and Duncan Robertson, were members of Leitheatre (opens in new tab) – a very well respected amateur dramatics company in Edinburgh - and persuaded me to come along. I was one of the office jokers and I think they saw some potential in my mucking about at work! My first role on stage as an adult was as the back end of a panto cow!"
So it's a big 'thank you' to Duncan and Mike!
"Absolutely, I've a lot to thank them for. When they came along and suggested I could go to drama school and be an actor, I thought, 'Wow! I suppose you can do it as a job!' I hadn't thought about it as a career before then. I wasn't particularly attached to the council, and was always thinking about what other jobs I could do, but couldn't think of anything I was good at or excited about. I'm really thankful to Mike and Duncan to this day. They helped me make the leap."
Do you have any advice for anyone contemplating a similar career change?
"You have to take a big breath when you embark on anything where you're generating your own work, whether it's carpentry, acting or plumbing. It's a big step because you're only as good as your last job. You have to keep your nose to the grindstone and your fingers crossed. Sometimes you get on a roll, and sometimes you don't and it's horrendous! But you keep going, because it's what you really want to do."
Did playing the back end of a panto cow ever come in useful later in your career?
"Yes, I channelled it when I played Orsino in Twelfth Night at Wyndham's Theatre a few years ago! On our opening night the show was filled with press and famous Shakespearean actors, including Kenneth Branagh. I reminded myself, 'It's OK, you were the back end of a pantomime cow once,' which really made me laugh and calmed me down!"
ITV's Jekyll and Hyde double-bill finale screens on Sunday, December 27 at 7pm and 8pm. Home Fires returns to ITV next year. Catastrophe is currently available to view on 4oD (opens in new tab)
Writer for TV Times, What's On TV, TV & Satellite Week and What To Watch
With twenty years of experience as an entertainment journalist, Elaine writes for What's on TV, TV Times, TV & Satellite Week and (opens in new tab)www.whattowatch.com (opens in new tab) covering a variety of programs from gardening and wildlife to documentaries and drama.
As well as active involvement in the WTW family's social media accounts, she has been known to get chatty on the red carpet and wander into the odd podcast.
After a day of previewing TV, writing about TV and interviewing TV stars, Elaine likes nothing than to relax… by watching TV.
Thank you for signing up to Whattowatch. You will receive a verification email shortly.
There was a problem. Please refresh the page and try again.