Jeremy Clarkson: I played Who Wants To Be A Millionaire with two billionaires!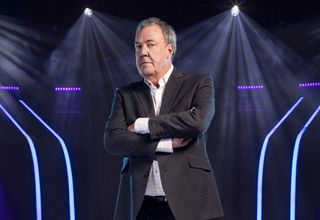 (Image credit: ITV)
Jeremy Clarkson reveals what to expect as he gears up to host a special new series of iconic quiz show Who Wants to Be a Millionaire? and how he played the game with two billionaires!
Quiz shows are ten a penny on TV, but 20 years ago the arrival of Who Wants to Be a Millionaire on our screens was a true television milestone. Hosted by Chris Tarrant, the show, which offered contestants the chance to win £1million simply by correctly answering 15 questions, had the nation absolutely gripped. With its portentous music, dramatic pauses and quotable catchphrases – such as 'Final answer?' and 'Would you like to phone a friend?' – Millionaire was an instant hit, and the format was soon sold to countries worldwide.
Now, to mark the anniversary, Jeremy Clarkson is taking over as quizmaster for seven shows in what is a slightly revamped version of the quiz. On that bombshell, we turned the tables and put Jezza in the hotseat while we asked the questions…
How did you feel when you were asked to host Millionaire?
Jeremy Clarkson: "I was genuinely amazed and honoured! I'm a massive fan of quiz shows and I was absolutely addicted to Millionaire first time around. It's the daddy of them all, the absolute king of quiz shows. When you step into a show as iconic as this, you're bound to be nervous and that's undoubtedly true of me!"
How has the format changed?
JC: "Well, one change is that there's a fourth lifeline. It's a useless lifeline, actually, which is 'ask the host' – and that's me! If the question's on 1970s prog rock music they're in very good shape. If it's on absolutely anything else, particularly golf, then they're just wasting their breath and they might as well ask the chair they're sitting on. They stand to lose lots of money if I get the answer wrong. It's very strange because you get a sweaty back and you sit there thinking what face to you pull if you've cost someone £32k!"
Original host Chris Tarrant was famous for his pauses and catchphrases. Have you created your own quiz show host persona?
JC: "If you take over a show that's well known for being hosted by somebody else and you try to copy what they did, it can often end in tears. But there are some things that are so intrinsic to the show. For instance there's no other way of saying them, like 'is that your final answer?' – although I'll feel like a bit of an idiot saying that because in everybody's mind those are Chris's words."
If you were a contestant, would you prefer James May or Richard Hammond as your phone a friend?
JC: "If the question was about 1957 then May, but if it was about absolutely everything else Hammond! Hammond is not as stupid as he makes out, but May is a lot more stupid!"
Would you be a risk taker if it came to the million pound question?
JC: "Everyone knows that I'm not badly paid, so I'd probably take more of a punt then someone who isn't. Funnily enough I was recently playing the old Who Wants To Be A Millionaire board game with two people who were actually billionaires! It was the most ridiculous thing in the world!"
Do you have a quiz master hero? "I absolutely love Pointless, but I think Bob Holness would have to be my quiz master hero. I was addicted to Blockbusters. 'Can I have a P please, Bob?' – who can forget that?"
Is there a gap in the market for a motoring quiz show where you could win a car? "We tried on The Grand Tour [his Amazon motoring show] to introduce a quiz show element to it and it was a catastrophic disaster - so bad that we didn't actually put it out."
What was your take on the 'coughing major' scandal which has been made into a stage play?
"It was a ballsy plan wasn't it? I love a clever crime when there are no guns involved and nobody gets stabbed. But Charles Ingram did get busted, so hard cheese mate."
Are you a pub quizzer? "I've done a couple, but I just get into furious arguments and get very tetchy."
What have James and Richard said about you taking on this new role… have they been supportive? "Have you ever seen any one of us being supportive or encouraging? I think James May's line was: well, you'll **** that up! No, we don't do supportive or encouraging, we just burst out laughing whenever one of us says we're going to do something. That's how we operate."
If you won the million, what would you spend it on? "I'm building a house at the moment so I'd spend it on that. It would just be a bit bigger."
Would you have any words of advice for anyone who does become a millionaire overnight?
"I was going to say don't tell your friends but when you've won it on television that's a bit hard. So, treat your friends."
What would you say to anyone who went away with nothing? "Well if I didn't like them I'd inwardly find it quite satisfying. If Jeremy Corbyn came on and lost £125k I'd laugh my head off. So there's a certain cruel streak in me for sure, but I'll have to keep that hidden."
Were you watching when the first contestant one a million pounds? "I certainly was. I'd love to have been in the production office when that happened. I was willing her on. It was brilliant. I don't remember Kennedy being shot, but I do remember Judith Keppel winning Millionaire."
Who Wants to Be a Millionaire returns to ITV on Saturday 5th May at 9.15pm for seven nights.
Ian writes about TV and film for TV Times, What's on TV and TV & Satellite Week magazines. He co-hosts the weekly TV streaming podcast, Bingewatch.
Get the latest updates, reviews and unmissable series to watch and more!
Thank you for signing up to Whattowatch. You will receive a verification email shortly.
There was a problem. Please refresh the page and try again.