Jericho's Jessica Raine & Hans Matheson: 'Love is a compulsion for Annie and Johnny' (VIDEO)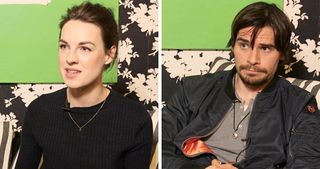 ITV's new show Jericho is a finely drawn tale of desperation in a frontier Yorkshire settlement, but at its heart it's a classic love story between new widow Annie Quaintain and mysterious navvy Johnny Jackson.
Star Hans Matheson (Johnny) told What's on TV the mismatched pair don't want to fall in love, but it becomes a compulsion to them.
"I don't think that they want to fall in love, they're not looking for love," said Hans. "But it happens to them, it's like an outside force. I think Annie is similar to Johnny in that she feels this great need to survive, so she's had to bury these things that have happened to her. She's in a state of grief, but she has to survive so there's no time for her emotional story. But love wants to release her from this idea that she just has to survive and do everything for everyone else, it wants her to be free...
"Initially there's this chemistry and attraction, but they king of push it away. But it comes back and it's almost a compulsion in the end that brings them together and even if it's not forever, it's been a good thing."
Jessica Raine (Annie) said Johnny's deceit about his past is a big obstruction to their relationship. When Annie discovers the lie, there's a 'huge shift in their relationship'.
"On finding out Johnny's secret, she already had some trust issues and Johnny's secret, suddenly she's not sure who she can trust. And obviously she knows in his heart he's a good man. He helped her out of a situation she finds herself in with [son] George, but [the lie] really changes things for them and it's a strong relationship that gets through that initial meeting and that initial lie."
Watch the interview with Jessica Raine and Hans Matheson, above. "]
Jericho continues on ITV on Thursday evening.
Get the latest updates, reviews and unmissable series to watch and more!
Thank you for signing up to Whattowatch. You will receive a verification email shortly.
There was a problem. Please refresh the page and try again.