Kate Humble on leaving Springwatch, clean beaches, her new series - and love at first sight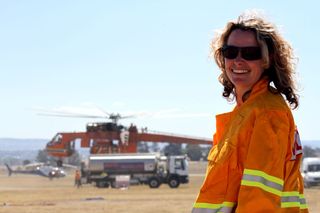 (Image credit: BBC/Sue Edwards)
TV presenter and wildlife enthusiast Kate Humble is best known for BBC shows Springwatch and Lambing Live and can currently be seen in on BBC2 in Wildfires 2014: Inside the Inferno.
She is also an ambassador for the Barefoot Wine Beach Rescue Project, a nationwide initiative to keep UK beaches "barefoot friendly".
Kate, 45, is married to TV producer Ludo Graham. They live on a smallholding in Monmouthshire, where she runs her farm business Humble By Nature.
Kate opens up to the Daily Express about leaving Springwatch, heading off into the hills of Afghanistan, cleaning beaches and falling in love…
You've been busier than ever since leaving Springwatch in 2012, but do you ever miss it?
"Of course. I loved Springwatch, but it became too familiar. It was a bit like a security blanket. Sometimes you have to leave your security blanket behind and scare yourself."
You certainly did that last year – heading off to hills in Afghanistan for your series, Wild Shepherdess…
"Of all the things I've ever done, that was one of the most extraordinary. The only downside was that I didn't wash or change my clothes for three weeks! The BBC have just asked me to film a similar series, this time living with nomadic tribes in Mongolia and Siberia. I can't wait."
Are you working on any other TV programmes at the moment?
"I'm doing a wonderful new series called Kew On A Plate with Raymond Blanc, for BBC2."
Between all that, you'll be cleaning beaches, too…
"I'm working with Barefoot Wine to promote their Beach Rescue Project until the end of September. I've been banging on about beach litter for years, but it's still a real problem. As well as looking unsightly, it's hugely detrimental to our marine and wildlife.
Did you always know you wanted to work with wildlife?
"I grew up in a ramshackle house next to a farm, surrounded by fields, and spent my childhood permanently outdoors. But it wasn't until I went to work in Botswana when I was 19 that my passion developed. It made me want to understand the natural world better."
Do you believe in love at first sight?
"Yes. I fell in love with Ludo the first time I saw him and we've been married for 22 years."
Do you have any unfulfilled ambitions?
"A million. Half of them are unachievable. I'd love to climb Everest, but there's no way I could. Also I'd love to be able to sing and not make everyone want to scream and run away!"
Wildfires 2014: Inside the Inferno, BBC2, Sunday, June 15
Get the latest updates, reviews and unmissable series to watch and more!
Thank you for signing up to Whattowatch. You will receive a verification email shortly.
There was a problem. Please refresh the page and try again.