Katie McGlynn: 'Scout's world comes crashing down'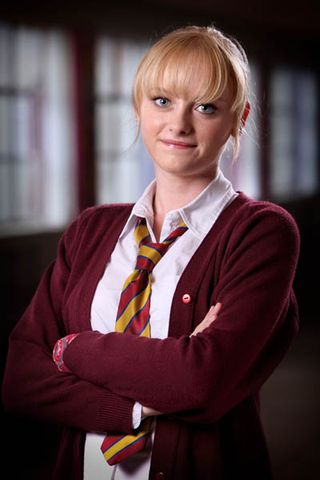 (Image credit: BBC/Matt Squire)
Katie McGlynn reveals Scout's shock wedding plans in this week's Waterloo Road (BBC1, Wednesday)... In this week's episode Scout is clandestinely preparing to marry fellow student, Danilo. What's going on? "Scout thinks she's in love with Danilo and wants to marry him, but he's only using her for a visa!" Scout's mum Tina (Lisa Riley) is secretly back in touch with her. Is she behind the marriage? "Scout's mum is encouraging her to marry Danilo, and Scout thinks it's because her mum wants to help him stay in the country. Scout thinks her mum's encouraging her because she loves her, but it's just not the case - she's actually trying to make money out of her." Who else knows about the wedding? "No one. Scout keeps it under wraps, but her ex-boyfriend Phoenix ends up finding out and helps her when it all goes downhill." It sounds like a very harrowing time for Scout... "It is really sad. Scout actually thinks her life is going pretty well, her mum seems to care for her and she believes she's in love with Danilo. In the end Scout's whole world comes crashing down." You can't give away the shock ending of the story, but what can you tell us? "In the end Scout realises what her mum is like and gets some justice. It's a real turning point for her. She's growing up, which is good! I sometimes get taken aback when I look at the scripts; they're often quite emotional. It's an amazing storyline to get my teeth into. I loved it - it's so dramatic with so many different levels to it." Did you enjoy working with Lisa Riley, who plays Scout's mum Tina? "It was brilliant. Lisa is an amazing actress and a lovely person. We've both got the same Northern sense of humour, so we really get on." What sort of reaction does Scout get from fans of Waterloo Road? "She gets quite a mixed reception. Some people find her quite irritating and others really like her. I love playing her - she's a nice kid and a loveable character who's ended up not having a great deal in life." Scout's changed a lot since we first met her. Is it a relief she's not as dirty and scruffy? "I really loved that! Dressing up as someone completely different was a lot of fun. But it was good to calm it down a bit. I love the fact she's a tomboy, as I'm not like that at all. Another difference is she gets very angry and says whatever she wants, which is really fun to do." Why do you think Waterloo Road is so successful? "There are so many different storylines the audience can relate to. It shows what kids actually have to go through. A lot of people don't realise how difficult life can be for people in situations like Scout, so I hope this helps them relate and empathise with what others go through."
Get the latest updates, reviews and unmissable series to watch and more!
Thank you for signing up to Whattowatch. You will receive a verification email shortly.
There was a problem. Please refresh the page and try again.