Keeley Hawes makes a shock return to Line of Duty: 'I had no intention of coming back'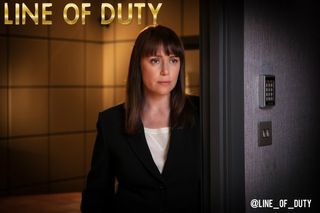 Line of Duty fans received a massive surprise when Keeley Hawes returned to her role as DI Lindsay Denton in episode two of the latest series on Thursday night.
Her return was a closely-guarded secret and surprised viewers as well as the media.
Keeley talked about Denton's return to the hit BBC2 cop corruption thriller series.
Did you know you were returning in series three?
"The concept of Line of Duty is that each series has a new guest lead and the premise of the show is that the regulars investigate somebody new each time. So when I came into the show for series two I only thought I was going to be in one series like Lennie James was.
"I didn't think I was coming back and I had no intention of coming back. I thought Lindsay was going to prison for 30 years and that would be that. But because Jed's writing is so brilliant and she was a character that caught people's imagination, I was asked to come back."
What were your impressions of the scripts for series three?
"I had no idea where it was going and could not believe how Jed had created all the twists and turns. I couldn't wait to read the next one, and I think that comes across when you watch the episodes, you can't wait for the next one. It's brilliant."
How did you learn your lines for the dialogue heavy scenes?
"Jed, and this show, is known for these amazing huge interrogation scenes and I was in a couple of those in series two, but not so much this time.
"I take my hat off to those guys who have to do it every series, because they really are tough. As brilliant as they are, it's like doing a play but with the pressures of television and without any of the rehearsal time.
"When you are doing them, it's incredibly enjoyable and you are using mental muscles that you wouldn't normally use when you make television. But it's quite a relief and I'm looking forward to watching the others do them this time around!
Where do we find Lindsay at the start of series three?
"We find Lindsay still in prison, but she has been working on her case for her appeal in order to try and get herself out."
What excites you about Line Of Duty?
"Lindsay Denton. There's nobody like her, no one that I've played before. She is so multi layered and constantly keeps you guessing. It's all in the writing, thanks Jed!"
What makes Line Of Duty so successful?
"I will attribute the success of the show to Jed giving the audience the credit to not spoon-feed them any of the answers. That appeals to people as it is complex and you can't second-guess it."
Line of Duty screens on Thursday night at 9pm on BBC Two
Get the latest updates, reviews and unmissable series to watch and more!
Thank you for signing up to Whattowatch. You will receive a verification email shortly.
There was a problem. Please refresh the page and try again.