Keeley Hawes: 'Ruth Wilson and I have a fantastic scene tonight in Mrs Wilson!'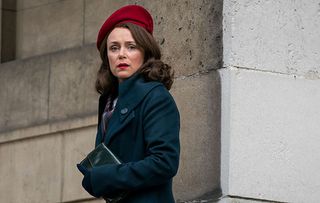 (Image credit: BBC/©WP Films Ltd.)
Keeley Hawes on playing a mystery woman in BBC1's compelling real-life drama Mrs Wilson, which continues this evening
Bodyguard actress Keeley Hawes is tackling an enigmatic role in BBC1 drama Mrs Wilson, based on the lives of Ruth Wilson's grandparents.
The opening episode of the series saw the actress appear as mysterious Dorothy while Alison Wilson, played by Ruth, tried to come to terms with the death of her husband Alec (Iain Glen) and her discovery that he was still married to his first wife Gladys.
In tonight's second episode, Alison tracks down Dorothy to get some answers about her own intriguing involvement with Alec.
Keeley Hawes reveals all to TV Times about her role in Mrs Wilson…
TV Times: Tell us about Dorothy
Keeley Hawes: "Dorothy was an actress and she and Alec met in Lahore in the 1930s when she was moving in all the right circles. In our story, she and Alec have this immediate attraction. She's the total opposite of all the other women, which is really interesting."
TVT: Have you researched the real Dorothy?
KH: "I've looked for information and there isn't really anything because she's no longer with us and her son Mike also passed away. In discussions with Ruth and the director, the important thing for the story is that when these two women meet they are two different, disparate people who have lived parallel lives with the same man. It's heart-breaking."
TVT: What's it like working with Ruth knowing this is her own family history?
KH: "We had a fantastic scene together that was exciting. I'm a big fan; she's brilliant and lovely to work with. She and her family have been so generous in allowing this story to be told. It's wonderful."
TVT: Do you have to keep reminding yourself this is a true story?
KW: "Yes, because it's one revelation after another and it's one of the most incredible stories I've ever heard. If it wasn't real, you'd think it was too much, but truth is stranger than fiction."
TVT: Despite Alec's lies, have you ended up feeling sorry for him?
KH: "This all happened before Facebook, you couldn't do it now, but just after the war everything was collapsing and it was a perfect storm for Alec. I can't help having sympathy for him though. I try to think, 'How could you?' but it was just such a mess and he got himself in so tight that he couldn't unravel it. Ultimately, he did whatever he did for his own reasons."
Mrs Wilson continues tonight on BBC1 at 9pm.
Get the What to Watch Newsletter
The latest updates, reviews and unmissable series to watch and more!
Caren has been a journalist specializing in TV for almost two decades and is a Senior Features Writer for TV Times, TV & Satellite Week and What's On TV magazines and she also writes for What to Watch.
Over the years, she has spent many a day in a muddy field or an on-set catering bus chatting to numerous stars on location including the likes of Olivia Colman, David Tennant, Suranne Jones, Jamie Dornan, Dame Judi Dench and Sir Derek Jacobi as well as Hollywood actors such as Glenn Close and Kiefer Sutherland.
Caren will happily sit down and watch any kind of telly (well, maybe not sci-fi!), but she particularly loves period dramas like Call the Midwife, Downton Abbey and The Crown and she's also a big fan of juicy crime thrillers from Line of Duty to Poirot.
In her spare time, Caren enjoys going to the cinema and theatre or curling up with a good book.