Kirsten Dunst and George Clooney team-up for new TV dark comedy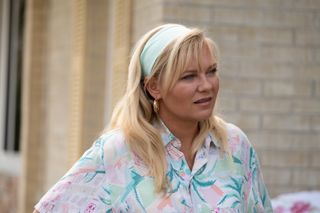 (Image credit: Patti Perret/SHOWTIME/Sony Pictu)
Hollywood star Kirsten Dunst is back on screen in new TV series, On Becoming A God In Central Florida, which is produced by George Clooney
Kirsten Dunst, best known for big screen blockbusters like Bring It On and the Spider-Man trilogy opposite Tobey Maguire, is back in a new TV series, On Becoming A God In Central Florida.
In the dark comedy set during the early 90s, which premiered in the US this week, Kirsten stars as Krystal Stubbs, a young mum working at a water park who finds herself getting involved with Founders American Merchandise (aka FAM) - a controversial pyramid scheme which her husband Travis (True Blood and Big Little Lies star Alexander Skarsgard) has invested money in.
"My character is cutthroat, but with a heart of gold," Kirsten told Entertainment Weekly. "It's about a mother trying to make it work! I get to put things that are ugly in front of myself into my roles. I can express my rage through Krystal. It ends up almost being therapeutic in a way. For me, I could play Krystal because I understand her, but also I get to release those things as well."
In just the first couple of episodes of the series, which is coming to the UK soon, Krystal gets to fire a shotgun, skin an alligator alive, speed through the door of a car salesroom aboard a 4x4 vehicle and pull-off a kooky beauty pageant dance!
One of the Executive Producers of On Becoming A God In Central Florida is none other than George Clooney! You might remember, George co-starred with Kirsten in hit medical drama ER back in the day.
During Season 3 of the series in 1996/1997, Kirsten guest starred as a street kid, Charlie Chiemingo who is helped out by Dr Doug Ross.
https://www.youtube.com/watch?v=8E9L-8nHAAE
Kirsten recently took some time out to enjoy life as a first-time mum to baby Ennis with her real-life fella, Jesse Plemons. The couple met while filming TV series, Fargo, for which Kirsten was award nominated for her role as hairdresser Peggy Blumquist.
https://www.youtube.com/watch?v=kU9SVg5i0WA
On Becoming A God In Central Florida will air in the UK at a later date
Get the latest updates, reviews and unmissable series to watch and more!
Thank you for signing up to Whattowatch. You will receive a verification email shortly.
There was a problem. Please refresh the page and try again.