Konnie Huq: 'I don't appear to be a nerd - but I totally am!'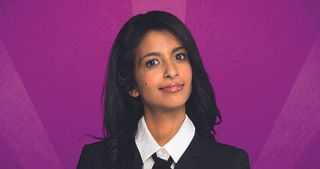 Self-confessed geek Konnie Huq (opens in new tab) attempts to find the nation's ultimate dweeb...
Rejected, persecuted and misunderstood: the life of the nerd can be a bitter thing. But not in new Sky1 series King of the Nerds, which aims to celebrate all things geeky and dorkish.
Over eight weeks, 11 contestants will compete to be crowned king (or queen) of the nerds. They include Curtis, a Cambridge maths student with 'a near encyclopaedic knowledge of Doctor Who', Kerry, a 'raging gamer' who owns more than 2500 computer games, and Ryan, a 'space nerd' who hopes to be on the first manned mission to Mars. We asked the show's host, Konnie Huq, to tell us more…
How does King of the Nerds work?
"Two teams of nerds live together in a house called Nerdvana, and every week they battle it out in a Nerd War. At the end of each episode, two players from the losing team go head-to-head in a quiz-style Nerd-Off."
What do they get if they win the final?
"A cash prize of £15,000. They also get to sit on the Throne of Games. It's gold, with intricate detailing and games consoles and stuff. It's pretty cool."
Did you witness any massive nerdy meltdowns during filming?
"Oh yes. I don't want to give away any key moments, but there's blood, sweat and tears."
How big a nerd are you?
"On the surface, I don't appear to be a nerd, but I totally am. I was definitely quite square at school. I was pretty much a straight-A student and never picked first for PE teams."
How would you fare in a Nerd-Off?
"The show's question setter gave me a test – my subject was the Periodic Table and I actually did really well. I remembered it all from A-Level chemistry. I studied chemistry, maths and physics at school and economics at university."
Who's the bigger nerd at home – you or your husband Charlie Brooker?
"We're nerdy about different things. He's a big gamer, I'm more of an eco-nerd. I get really annoyed if Charlie puts things in the bin rather than the recycling. Or if he leaves the lights on."
Will you stay in contact with any of the nerds?
"In the euphoria of the winning celebrations I said to them all, 'Keep in touch. Here's my email address.' But none of them emailed me. I can't even be popular with nerds. Now that's totally nerdy."
King of the Nerds is on Sundays on Sky 1.
Get the latest updates, reviews and unmissable series to watch and more!
Thank you for signing up to Whattowatch. You will receive a verification email shortly.
There was a problem. Please refresh the page and try again.