Larry Lamb: 'I was absolutely devastated when I found out New Tricks had been axed'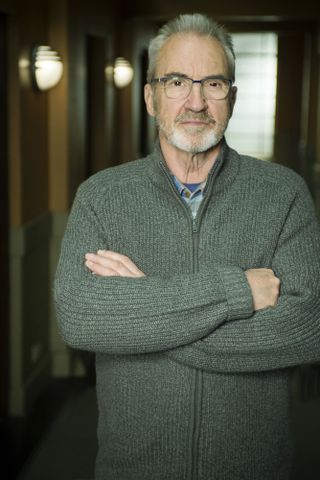 (Image credit: BBC/Headstrong Pictures/Amanda Searle)
Ex EastEnders star Larry Lamb (opens in new tab) was beyond thrilled to land a role on one of TV's biggest shows. But joy turned to dismay when the BBC axed New Tricks (opens in new tab), only a few months later.
How did you feel when you found out that New Tricks was going to be axed?
"It's such a shame, I was absolutely devastated when I found out. We'd just finished filming episode four when I heard the news.
"When I signed up for New Tricks I assumed I'd be doing it for two or three years. I didn't think it would run forever, but I certainly didn't figure that would be it! I loved working on the show, it was a proper job I could get my teeth into."
Larry, 67, plays aptly-named retired detective Ted Case, an old friend of Gerry Standing, played by Dennis Waterman, who leaves the show on Tuesday. What can you tell us about your role as Ted Case in New Tricks?
"Ted's a senior copper with a lot of experience. He figures in Gerry's history and he's part and parcel of his exit storyline in episode two. Then later, when UCOS needs some extra help, they bring him back in.
"It was nice to have a couple of scenes with Dennis and to see him again. I worked with him 30 years ago on Minder, but I've changed a lot since then!"
Does Ted immediately fit into the team?
"UCOS is an interesting opportunity for him to get back in the saddle, but it's a different crowd of people and he's not that impressed with them. Eventually he gets to know them and starts to realise their value."
Was there a strange atmosphere on set when it came to filming the final scenes?
"It came from the crew more than anything else. Let's not forget that all four of us main players are replacements, we're not the originals, but there are some people who have been working on the show for more than 10 years, and it was their response that was the saddest thing. It's too easy to overlook them, but 100 people lost their jobs that day."
You've had a varied career, especially in the last few years. Are you planning on taking on any more acting roles?
"I have made a new life for myself outside of acting, doing documentaries and a radio show. If another channel picked up New Tricks I'd be happy to do it again, absolutely, but I don't want to do bits and pieces. Playing a visiting fireman doesn't interest me.
"I even paused for a second when I got asked to play Ted because I'd had one of the best years of my working life being a presenter and I realised I wasn't reliant on my agent phoning me up about acting jobs any more. But then when New Tricks came along I thought it might be a good idea to get back in there and it was wonderful."
Your two biggest roles, Mick Shipman and Archie Mitchell, made you a household name. How do you look back on EastEnders and Gavin & Stacey?
"Frankly, the only reason you're interviewing me is because of those two shows and without them I wouldn't have been up for the part in New Tricks. I had an incredible career for 40 years doing lots of great stuff, but EastEnders and Gavin & Stacey put me on the map – they were incredible gifts."
Get the What to Watch Newsletter
The latest updates, reviews and unmissable series to watch and more!