Poldark: 'The finale is dramatic, exhilarating and tense!' says Debbie Horsfield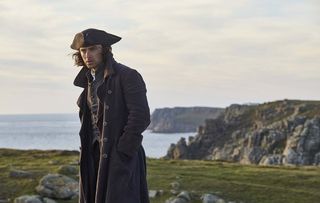 (Image credit: BBC/Mammoth Screen/Mike Hogan)
Poldark writer Debbie Horsfield on what's in store for Ross and co in the series four finale and beyond…
Poldark writer Debbie Horsfield promises a drama-packed finale that will change the lives of hero Ross and all the main characters forever when series four of the hit Cornish saga draws to a close this Sunday.
Following the explosive showdown with Monk Adderley last week, Ross returns to Cornwall to try to make amends with wife Demelza, but will he succeed? Meanwhile, desperate Elizabeth obtains a tonic designed to induce an early labour in an attempt to convince husband George that little Valentine is his child once and for all. But will her plan work? Elsewhere, Morwenna seeks out Drake – could a fairy-tale ending finally be on the cards for the star-crossed lovers?
With so many threads to tie up, TV Times met with Debbie Horsfield for an exclusive interview to find out more…
So, Debbie, how would you describe the final episode?
"Dramatic, exhilarating, tense, heartbreaking... but ultimately heart-warming! There's so much story, so many twists and turns, we couldn't fit it all in! The opening scene will be a surprise and we'll get to see the return of some familiar faces who came back especially for the finale."
What's in store for Ross and Demelza (Aidan Turner and Eleanor Tomlinson)?
"They have been through some difficult times, and their marriage was stretched to breaking point. It was often difficult to watch, especially when their respective hurt and sense of betrayal made them fractious or distant with each other. A few viewers have lamented the loss of romance from their relationship during those times. Ultimately, though, theirs is the story of a marriage which survives, which thrives, which deepens and strengthens with each year and challenge. What we see in episode eight is the resolution of several storylines that provide some of their sternest challenges. But because of the discoveries they've made – about themselves and each other – they're in a very different place by the end of the series."
Elizabeth (Heida Reed) is central to the episode. What can you tell us about this dramatic storyline?
"Elizabeth is a contentious character. Winston Graham [who wrote the Poldark novels] describes her story as 'the tragedy of a woman who couldn't make up her mind'. Very much a woman of her time, bred to make a good marriage but with very little power of her own, she's a survivor who will do what needs to be done, especially on behalf of her children. It's because of her love for her children that she makes a decision that will change the lives of everyone forever."
Can we expect any happiness for poor Morwenna (Ellise Chappell)?
"Morwenna's story has been particularly harrowing. There are no quick fixes for someone who's been as traumatised as she has, but let's say there's more than a glimmer of hope."
Can you tell us anything about series five just yet?
"I'm currently writing it. We know fans are eager to know more and we'll be letting them know once series four has finished."
It's a busy week on screen for you as your BBC1 drama Age Before Beauty starts. Was it a nice change to write a contemporary drama after your time in 18th-century Cornwall?
"I'd only ever written contemporary drama before Poldark and I'd only ever written my own material. But the elements that interest me – family sagas, strong characters, stories of rivalry, conflict, ambition, passion, disaster, triumph – work just as well in 18th-century Cornwall as 21st-century Manchester, so it's been great to explore both worlds!"
Don't miss the Series 4 finale of Poldark on Sunday 29 July at 9:00pm on BBC 1
Thank you for signing up to Whattowatch. You will receive a verification email shortly.
There was a problem. Please refresh the page and try again.