Last of the Summer Wine actress Jean Fergusson has died aged 74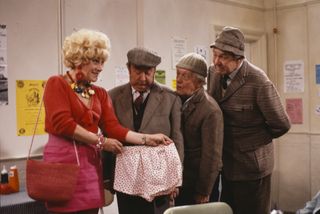 (Image credit: Getty Images)
Jean played peroxide blonde Marina for 25 years on the iconic comedy
Last of the Summer Wine star Jean Fergusson, who played Marina in the gentle comedy series, has died aged 74.
The much loved actress played Marina for 25 years until the show ended in 2010 - Marina would famously sneak off with her secret man Howard on bike rides as they tried to evade his wife Pearl.
Jean also enjoyed a string of other roles, including a stint as Dorothy Hoyle in Coronation Street from 2010 to 2011.
Among those paying tribute to Jean was former 'Allo 'Allo actress Vicki Michelle, who wrote: "Shocked & saddened to hear Jean Fergusson has passed Lovely lady, fabulous actress. Saw her Sunday at #SuPollard's birthday, said she wasn't feeling well. @benstockbiz and I planned to take her out next week. Can't believe she's gone."
Back in 2017, Jean spoke about her time on Last of the Summer Wine and how she became a little more uncomfortable wearing Marina's skimpy wardrobe as timed passed.
Asked about her experiences by host Alexander Armstrong during an appearance on Celebrity Pointless, Jean replied: "… I was always the one in the low-cut blouse and the mini skirt or the shorts. When I got – shall we say – a little bit older, it wasn't quite the same.
"Getting all dressed up in the morning in a pair of little mini shorts and a very low cut blouse."
She added: "But we battled through. Got on the bike and off we went."
In a chat with Paul O'Grady on his show, she shared a joke with Paul about how Marina always seemed to end up in a hedge. "I don't know why, but I end up in a hedge most of the time, in just about every episode and he doesn't end up in a hedge, you know who I mean, Howard. He just pushes me in there, puts his foot on my back and holds me down!"
Jean, who was born in West Yorkshire in 1944, also enjoyed parts in Doctors, All Creatures Great and Small, Crossroads and Peak Practice.
Main pic of Jean Fergusson in Last of the Summer Wine: Getty images
Get the latest updates, reviews and unmissable series to watch and more!
Thank you for signing up to Whattowatch. You will receive a verification email shortly.
There was a problem. Please refresh the page and try again.