Len Goodman: 'I'd like Barry Humphries and Stephen Fry on Holiday Of My Lifetime'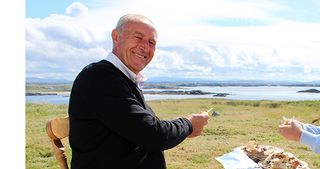 (Image credit: BBC/Raise the Roof Productions ()
Well pickle our walnuts! Strictly's popular head judge Len Goodman (opens in new tab) has taken a brief break from scrutinising footwork to make a second series of his nostalgic BBC afternoon show, Holiday of My Lifetime (opens in new tab) (BBC1, Monday, October 26) in which he takes celebrities back to their childhood holiday haunts.
This year Len couldn't resist a few trips with Strictly friends, including a visit to Donegal with Daniel O' Donnell, a day in Devon with Jake Wood and, the piece de resistance, a waltz to Blackpool with professional dancer, Anton Du Beke.
Here, Len, 71, reveals all about his friendship with Anton, his love of British holidays and why Craig Revel Horwood makes a wonderful travel companion.
Len, we're so pleased to see this show back for another series...
"I had a lot of fun! It's just a lovely show and evidently it was popular so I jumped at the chance to make another series. Visiting so many lovely places is great, but also meeting the celebrities and trying to relive their holiday memories. I feel awkward taking any money off the BBC for doing it, because I enjoyed it so much!"
Never tell them that, Len! Why do you think Holiday of My Lifetime has struck a chord with viewers?
"It's mostly people of a certain age who watch TV in the afternoons and it's lovely to recollect how things were and remember the food that you used to eat and the car you used to go in. Looking back at the list of episodes I can't help smiling."
This year you went to Blackpool with Anton Du Beke – you must have been delighted by his choice of destination?
"Well, I would have preferred it if he'd chosen Sevenoaks because it's only two miles up the road from me! [laughs] But of course as far as ballroom dancing is concerned, Blackpool is like Wimbledon is to tennis or Wembley is to football, so to go back and go up the tower it was terrific. We were trying to relive Anton's first dance competition there in 1981 so we found a couple of ladies to dance with in the Winter Gardens!"
You've been friends with Anton for many years haven't you?
"I've known him since he was a little boy! I used to judge him in competitions when he was not much more than a beginner and these days we play golf together. We have a similar sense of humour and he was one of only 30 people I invited to my wedding in 2012."
Anton tends to be paired with the, erm, less naturally gifted celebrities on Strictly. Is it hard to give your friend bad marks?
"No, in the past I've had to judge lots of couples that I've taught, but you have to be totally fair – if the dance is no good, it's no good. If I lost that ability to be unbiased I wouldn't want to judge anything. But this year dear old Anton has got a terrific partner in Katie Derham so there's no excuses if he gets bad scores!"
Strictly is brightening up our Saturday nights once again – are you glad to be back on the show?
"Oh it's lovely. Every cabbie shouts 'Seven!' at me! I'm not doing the American version, Dancing with the Stars, this year because the two shows are on at the same time and flying backwards and forwards was an absolute killer. It was so exhausting, and my son has just had a child, so I wanted to be around in England to see my granddaughter."
Would you consider inviting your fellow Strictly judges onto Holiday of my Lifetime?
"I would, but Bruno's childhood holidays were in Italy and Craig's were in Australia. I've spent so much time with them on the Strictly tour though, so the three of us have been round quite a bit of Britain together already. Not the seaside sadly, but the big cities."
We can't imagine you sharing a caravan with grumpy Craig…
"Oh Craig's the most lovely guy. Sometimes I don't quite agree with his marking, but you get a persona on Strictly and it would be weird if Craig suddenly started dishing out 8s and 9s in the first week. People think he must be such a miserable devil, but he isn't, he's a smasher!"
Which do you prefer: a British holiday or jetting off abroad?
"Well, people go to other countries to get some sunshine, but if you get nice weather in Britain then I don't think there's anywhere better. Going abroad means driving to the airport and all of that faff, so there's a lot to be said for British holidays I think.
Has this series inspired you to take any more trips around the UK?
"Yes, I went to Jersey with Carol Kirkwood and it was such a gorgeous island with such beautiful bays, that when I got home I said to my wife, Sue, 'Let's go!' Unfortunately it rained every day but we hired a little car and drove around, stopping off at little pubs and going for a little walk when the sun came out. I enjoyed myself!"
Who would be your dream celebrity travel companions for series three?
"They say never meet your heroes so I'd be a little bit worried about it, but what about Barry Humphries [who plays Dame Edna Everage]? Or Stephen Fry? I like Danny Baker, he's a Cockney and I like listening to him on the radio, so I wouldn't mind going away with him."
Get the latest updates, reviews and unmissable series to watch and more!
Thank you for signing up to Whattowatch. You will receive a verification email shortly.
There was a problem. Please refresh the page and try again.