Les yeux sans visage (1959) | The French horror classic shocks again on Blu-ray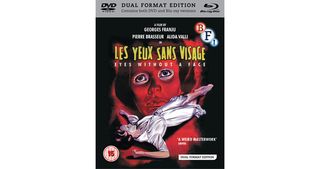 Along with Alfred Hitchcock's Psycho, French director Georges Franju's 1959 Les yeux sans visage (aka Eyes Without a Face) reigns supreme as a masterpiece in modern horror, and is now available on Blu-ray in the UK for the first time from BFI.
Demented Parisian plastic surgeon Prof Genessier (Pierre Brasseur) and his loyal lovelorn assistant Louise (Alida Valli) abduct young woman to graft their skin onto the face of his disfigured daughter Christiane (Edith Scob). But with successive surgery, the isolated Christiane begins to lose her sanity and her will to live…
Eyes Without a Face caused outrage on its release in 1959 where its gruesome scalpel scenes exert a shocking fascination, while it's poetic visual style, shadowy monochrome cinematography and jangling circus-style music imbue the film with a heady atmosphere of menace, anxiety and unflinching horror.
The BFI Dual Format (Blu-ray/DVD) release (out on Monday 24 August) features the film re-mastered in High Definition and is presented in its original aspect ratio (1:66:1) and made available from Gaumont. The release also includes the following special features:
• Audio commentary by Tim Lucas (Video Watchdog) • Monsieur et Madame Curie (Georges Franju, 1953, 14min): a study of the life and work of the Curies, told through the words of Marie Curie. • La Première nuit (Georges Franju, 1958, 20min): a young boy spends a night in the Métro. • Les Fleurs maladives de Georges Franju (2009, 50min): an overview of Georges Franju's career. • For Her Eyes Only: An interview with Edith Scob (2014, 17min) • Booklet featuring essays and full film credits.
Get the latest updates, reviews and unmissable series to watch and more!
Thank you for signing up to Whattowatch. You will receive a verification email shortly.
There was a problem. Please refresh the page and try again.