Liam Charles: It's really cool, but mad to be making my own cookery show!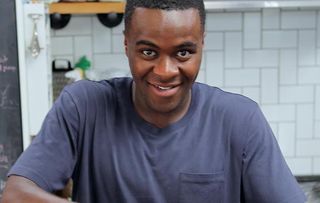 (Image credit: Love Productions)
The Bake Off star on his new show, Liam Bakes, which starts tonight on C4 at 8pm
As drama student Liam Charles chanced his arm on last year's The Great British Bake Off, the best he was hoping for was a Hollywood handshake.
But the nation fell in love with him, and before he knew it, fan favourite Liam was co-hosting its spin-off show Bake Off: The Professionals!
Now he's back on our screens with his own baking series for C4, set in his "gaff" (a TV studio that looks like his dream flat!) and featuring his nearest and dearest, as Liam shows us how he makes his tantalising recipes.
TV Times met up with Hackney-born Liam Charles, 21, to find out more…
How does it feel to have your own baking show?
Liam Charles: "It's really cool but mad, I didn't think any of this would happen! I'm trying to take every day as it comes, and I want to show people that anyone can bake. The show is 100 per cent me. We also visit places around east London with a legitimate connection to me – we go to the Caribbean restaurant I used to go to every Saturday night and my favourite falafel place. I'm proud of my community and it's great to put it on camera."
What is your favourite recipe in the series?
LC: "There's an ice cream sandwich: it's ice cream between two biscuits but there are different toppings on both sides – it involves putting biscuits, popcorn and Smarties in a blender! There are four recipes per episode and each one has its own distinctive identity."
What do your friends and family help you cook during the series?
LC: "I've got this tortilla chip recipe, which is a sweet take on nachos with popcorn dust, it's proper tasty. My uni mates helped me with that. My mum's not a massive fan of the camera, but I told her she had to be on the show and she was fine after the first two minutes. We made savoury scones, which was really good fun. It's been a while since we've baked together and she likes to think she knows best in the kitchen! My dad's in it too, he gets to taste all of the recipes."
How do they feel about your success?
LC: "My nan is proper chuffed. It's crazy for her – she used to buy me flour and eggs when I was on student finance. She still wants to chip in – she doesn't 100 per cent get that I'm earning money now. She told me to get a part-time job the other day! There's a recipe on the show inspired by one of her Sunday dinners. My youngest nephew thinks I'm cool, but the older one plays it down – the other day he told me how annoying it was that his teachers talk about me!"
You finished fifth on Bake Off. How do you look back at your experience in the tent?
LC: "I still have my Bake Off apron, it's on the back of my door – it needs washing! When it first aired I thought I looked like such a doughnut, doing weird stuff on the TV. You can never anticipate how people will receive you, but it was crazy. I would be sitting on the 236 bus to my nan's with people saying, 'Oh my God, you're the guy from Bake Off!' I watched this year's series, Briony was my favourite and Rahul cracks me up. I'm glad I didn't have to make a Wagon Wheel on my series! I'm buzzing for Paul [Hollywood] and Prue [Leith] to see my new show."
You're at drama school – are you planning to become an actor?
LC: "Yes, I graduate in December but my uni has been really understanding. They told me to do what I need to do for the show and then come back and get the work done. Drama was my first passion – I'd love to be in a show like The Inbetweeners or a film like The Avengers! But my ultimate goal now is to become a household name in baking, like Nigella or Mary Berry. Oh, and to have a collaboration with a trainer brand – baking-inspired trainers!"
Liam Bakes, C4, 8pm.
Get the latest updates, reviews and unmissable series to watch and more!
Thank you for signing up to Whattowatch. You will receive a verification email shortly.
There was a problem. Please refresh the page and try again.