Liar star Ioan Gruffudd: 'Andrew is the most hated man in Britain!'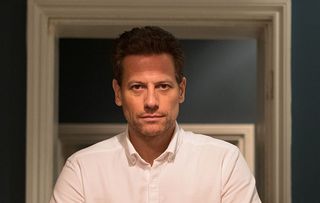 Liar's Ioan Gruffudd on playing TV's nastiest doctor and why the role has changed his career
Ioan Gruffudd has given an interview to TV Times about his chilling Liar character Andrew and the series' shocking finale.
What is the story?
Sinister Andrew Earlham, played by Ioan Gruffudd, has certainly shown his true colours in ITV thriller Liar. After the revelation that he did rape teacher Laura Neilson (Joanne Froggatt), he has gone on to rape pregnant detective Vanessa Harmon (Shelley Conn) but has slyly dodged attempts to bring him to justice. Now, as the series draws to an epic conclusion, will he get his comeuppance?
Ioan Gruffudd gives a interview about the finale of Liar…
TV Times: Well Andrew is a nasty piece of work isn't he?!
Ioan Gruffudd: "I know! It was initially ambiguous and even after the reveal, some viewers were unwilling to accept that Andrew was like that but now we clearly see he has issues. He is clever guy and covers his tracks but that is part of the thrill for him too. These sorts of people walk among us and it is frightening because there are also so many victims who are unable or too terrified to come forward and I hope we've highlighted their pain."
TVT: What can you tell us about the finale?
IG: "There are some big and exciting twists! Time has passed and Laura is getting on with her life and Andrew is also in the early stages of a new relationship but it is still a cat and mouse game because Laura is brave and she is not going away. It looks like Andrew has got away with it but the more arrogant he grows about being untouchable possibly the more over-confident he becomes…"
TVT: Will it be a satisfying conclusion for the audience?
IG: "Yes, we wrap up the story in a definitive manner but some things will be left open-ended. I think viewers will be satisfied but left slightly uneasy and uncomfortable and thinking, 'What have I just watched?' If it leaves you feeling drained and even unclean we will have succeeded."
TVT: Could there be another series?
IG: "I wouldn't want to be the writers if they did have to write another series because I'd worry how you'd create tension when you know he has committed these crimes but it would be interesting to see how they'd weave a compelling story."
TVT: What has it been like working with Joanne?
IG: "Wonderful. I feel like a big brother to her and we hit it off immediately, thank goodness, because there was enough tension in our scenes. I don't know how she does what she does but it was a joy to watch and I loved working with somebody of that talent, it just elevates your game."
TVT: You live in America, are you a bit scared of returning to the UK in case you get a bad reaction in the street?!
IG: "I daren't come back now because he's probably the most hated man in Britain! I may be on the tube now and people will move away or the older generation will come at me with their umbrellas. It's beyond our wildest dreams that the show has this impact though. We have really pulled the wool over people's eyes; it is great that they feel betrayed by Andrew and saddened by what he has done."
TVT: What has the role meant to you?
IG: "It's not something I have ever had a chance to play before so it's exciting because I've played a lot of earnest, open-book characters like Hornblower, which was my big break about 20 years ago. It's interesting for me too because Liar isn't a costume drama or a blockbuster sci-fi movie like I've done before, it's real and close to home. It's also the most challenging role I've played because it goes to places we don't want to delve into and it was also hard to put across that to Andrew, he's doing nothing wrong, he had to be completely believable as a lovely, charming person."
TVT: Do you think Liar will open doors to more darker roles for you?
IG: "Hopefully because I've always been attracted to playing these roles but I have never looked like somebody who has lived a life or has gravitas behind him! But I'm 44 now and my career opportunities and my age have collided and now I'm getting the chance to do that so it'd be lovely to play more three-dimensional, flawed characters."
Liar concludes on Monday 16 October at 9pm on ITV
Caren has been a journalist specializing in TV for almost two decades and is a Senior Features Writer for TV Times, TV & Satellite Week and What's On TV magazines and she also writes for What to Watch.
Over the years, she has spent many a day in a muddy field or an on-set catering bus chatting to numerous stars on location including the likes of Olivia Colman, David Tennant, Suranne Jones, Jamie Dornan, Dame Judi Dench and Sir Derek Jacobi as well as Hollywood actors such as Glenn Close and Kiefer Sutherland.
Caren will happily sit down and watch any kind of telly (well, maybe not sci-fi!), but she particularly loves period dramas like Call the Midwife, Downton Abbey and The Crown and she's also a big fan of juicy crime thrillers from Line of Duty to Poirot.
In her spare time, Caren enjoys going to the cinema and theatre or curling up with a good book.
Get the latest updates, reviews and unmissable series to watch and more!
Thank you for signing up to Whattowatch. You will receive a verification email shortly.
There was a problem. Please refresh the page and try again.