Line of Duty's Vicky McClure on how her late grandmother inspired her to form an extremely special choir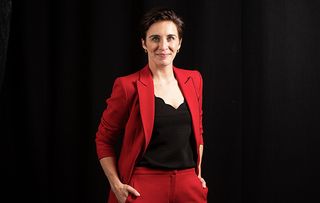 (Image credit: BBC/Curve Media)
'Music was the one way I could communicate with my nana'
Vicky McClure was devastated when her grandmother Iris was diagnosed with dementia, but the Line of Duty star and her family, as well as Iris, found comfort in the restorative power of music.
Tonight, in BBC1's two-part documentary Our Dementia Choir, Vicky, who campaigns for the Alzheimer's Society, is keen to see if music can also have a positive effect on some of the other 850,000 people with dementia in the UK.
Cameras follow Vicky over three months as she forms a choir made up of people who are all living with the disease in Nottingham, her home city. The group – with an age range that goes from those who have developed the condition in their 30s, right up to others in their 80s – undergo tests to investigate whether being part of the choir is improving their well-being.
Then, with the help of the inspirational musical director Mark De-Lisser, they prepare for a special performance in front of 2,000 people at Nottingham's Royal Concert Hall.
Here, Line of Duty star Vicky McClure, 35, tells TV Times about her emotional – and very personal – mission to make a difference…
Your grandmother passed away in 2015. How did music help her?
Vicky McClure: "Music was the one way I could communicate with my nana, as we had lost communication. But through song, even if it was just a nursery rhyme, we could all hum the same tune and it was blissful. People are realising the power music has for those who are losing their memories. Nothing can cure dementia currently and it's terribly sad, but it's about trying to live well with the disease. I wanted the choir to be something people would get joy out of. Music is as powerful as a drug to me; it's like euphoria."
Could you see the impact that singing had on the choir?
VM: "Yes, they loved singing the old classics and they even picked up the modern songs. It gave them a purpose and they challenged themselves, because it's not easy learning a song anyway – never mind if you have dementia. They'll tell you how much it has helped their lives, but it's not just them: their family and friends will tell you how much it has changed their lives, too. You're watching a family member change and that's hard. But while the choir rehearsed, the families could be together and offload, and they've built beautiful friendships.When you know someone's going through it with you, it takes away some of that pain. You don't feel like you're on your own."
[The burning questions we want answered in the Line of Duty finale]
Did you bond with anyone in particular in the choir?
VM: "I loved them all, we have a funny Facebook group, and lots of them still meet up and sing. I've made friends with Daniel [a dad-of-two who is 31 and has a rare genetic form of Alzheimer's] and his wife Jordan, as we're a similar age. I also had a lovely connection with June, who doesn't really talk, but at the end of a performance we did before Daniel and Jordan got married, she said, 'Good'. It was such a beautiful moment."
What was it like being part of the performance at the concert hall?
VM: "It meant a lot to me that people came out in their thousands and I love the fact that we did this in my home town. I didn't care what I sounded like because if the choir could do it, then I could do it. They were the stars of this project. They worked so hard, they found confidence and they found their choir voice, and it sounded beautiful. They don't realise what they'll be doing to inspire other people and give hope. I'm hugely proud of what we have done."
Do you think this will encourage others to use music to help with dementia?
VM: "Yes, and I want to find more ways to help people live well with dementia. The statistics for people doing music therapy in care homes is low, so that's something I'd push. There isn't enough funding at the moment, so I'm hoping when the programme goes out, the whole country will say, 'Where do I join?'. Whether it's a friend, a family member or yourself, dementia's going to be in your face, so we've all got to spread the word."
Our Dementia Choir with Vicky McClure is on BBC1 tonight at 8pm (Wales, Fri, 8.30pm).
Get the What to Watch Newsletter
The latest updates, reviews and unmissable series to watch and more!
Caren has been a journalist specializing in TV for almost two decades and is a Senior Features Writer for TV Times, TV & Satellite Week and What's On TV magazines and she also writes for What to Watch.
Over the years, she has spent many a day in a muddy field or an on-set catering bus chatting to numerous stars on location including the likes of Olivia Colman, David Tennant, Suranne Jones, Jamie Dornan, Dame Judi Dench and Sir Derek Jacobi as well as Hollywood actors such as Glenn Close and Kiefer Sutherland.
Caren will happily sit down and watch any kind of telly (well, maybe not sci-fi!), but she particularly loves period dramas like Call the Midwife, Downton Abbey and The Crown and she's also a big fan of juicy crime thrillers from Line of Duty to Poirot.
In her spare time, Caren enjoys going to the cinema and theatre or curling up with a good book.