Louis Theroux on Mothers on the Edge - 'I hope it will open up people's eyes a bit'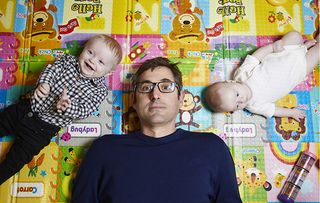 (Image credit: BBC/Richard Ansett)
Louis Theroux looks at the taboo subject of mental health and motherhood for a new BBC2 documentary
It's meant to be love at first sight, but for many new mothers, having a baby can be a time of severe stress and anxiety, sometimes even triggering psychiatric issues.
In the UK, around one in five new mothers experience a mental health problem before their baby's first birthday, yet it's rarely talked about or properly understood.
This Sunday, filmmaker Louis Theroux visits two specialist psychiatric units, hoping to shed light on conditions ranging from depression and anxiety to postpartum psychosis, which includes symptoms of delusion and hallucinations.
Lisa has experienced psychotic episodes since the birth of her third child, Isabella, while Catherine is under section and "learning to love" her six-month-old, Jake. With the right medication and therapy, both mothers hope to return home soon.
We spoke to Louis Theroux to find out more his new BBC2 documentary Mothers on the Edge…
Why did you want to explore mental health and motherhood?
Louis Theroux: "We're constantly told motherhood is a cause for celebration and happiness, but new mums can often feel overbearing pressure to have feelings of love that might not be there in the uncomplicated way they want them to be. Encouraging people to open up that can only be a positive thing."
Can postpartum psychosis affect anyone?
LT: "I'd heard about postnatal depression, but I didn't know much about postpartum psychosis before this, so it's been an education. I learnt it can often, but not always, affect mums with no previous history of mental illness. But with the right treatment, it can also disappear, which is an encouraging fact."
Is there a misunderstanding about postpartum mental illnesses?
LT: "I think so. Doctors explained to me that if a mum has an intrusive thought about harming her baby, it doesn't mean she will. In fact, it's testament to her good will that she's troubled by the thought and wouldn't want to act on it."
Did you have any concerns during filming?
LT: "No, because I knew the mums were in the right place. For all the NHS cutbacks, these units have been spared, which shows how society privileges the relationship between mums and their babies."
The mums are incredibly brave and candid in their interviews…
LT: "Yes, and I hope it will open up people's eyes a bit. I'd like to think people watching who have kids would have a sense of recognition and understanding."
As a parent, can you relate to any of these anxieties?
LT: "My wife [director Nancy Strang] and I have three sons, and while I'm not comparing our experiences with a psychiatric emergency, it's not uncommon to have feelings of desperation and failure behind the scenes."
Watch the new Louis Theorux documentary Mothers on the Edge on BBC2 at 9pm on Sunday 12th May.
Get the latest updates, reviews and unmissable series to watch and more!
Thank you for signing up to Whattowatch. You will receive a verification email shortly.
There was a problem. Please refresh the page and try again.